June 2017 Exhibit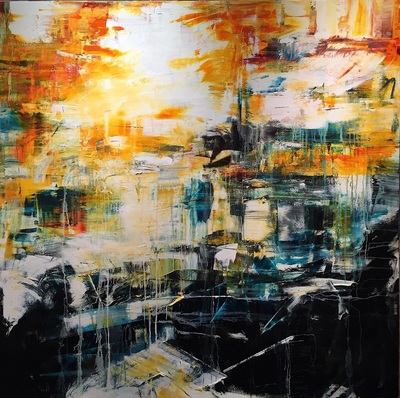 Darren Orange
Under The Surface
We are proud to present the work of Northwest artist Darren Orange with his first solo show at Imogen. Darren, who is known throughout the region for his bold and evocative style brings his latest collection, Under The Surface. His paintings encapsulate the raw power of the Pacific Northwest through abstract interpretations of landscape. Under The Surface opens during Astoria's Second Saturday Artwalk, June 10th with a reception from 5 – 8 pm. All are invited to attend and meet Darren who will be available to answer questions about his paintings and process. Food and drink will be available, generously provided by the Astoria Coffeehouse and Bistro. The exhibition will be available for viewing through July 3.
Astoria artist Darren Orange is an individual who is known to push boundaries, in his own painting process and his career as an artist. Within this new series the push and pull of paint over surface emulates the power of the lower Columbia River region. The river rolls by, sometimes with quiet and meditative current almost appearing motionless, other times white caps violently push against itself as if trying to climb back to its source. His new series Under The Surface captures that very spirit and energy. The suggestion of boundaries set by land create sense of containment, as the massive body of water pushes forward to meet with the grand Pacific Ocean. It is here that Darren finds a sense of place and meaning.
Darren Orange was raised in the agricultural region of Central Washington where vistas are vast and life is connected intimately to land, much like his adopted home of the lower Columbia region. He seeks places of authenticity where man is directly linked to terrain through farming, timber or fishing. These places have stories to tell, Darren strives to participate in that narrative through his painting. His direct and sometimes raw work conveys through abstracted landscape his own personal connection to place, but more importantly to those who came before, those who made their living through and from the land by fishing the river or felling trees. His work pays homage to independence and tenacity and the general spirit of the Northwest.
Within this new series, Darren brings paintings of all scale. His palette shifts from past work to infuse hint of complex color, reminiscent of faint hues of refracted light forming when light hits reflective surface. About his new body of work he states: "My work continues to explore abstract interpretations of environment. Through destruction of established paintings new works emerge by carving into the foundation of the painting. These works are built from an aesthetic game of chess, an intuitive mark making process. I build up representational landscapes and break the predictable endgame with slashes, spills, and drips watching for more interesting outcomes to present themselves to the surface like a stone block to the sculptor." Also included to the show will be the finished painting that took shape onstage at the Liberty Theater as part of a performance with famed cellists Ilya Kazantsev and Sergey Antonov, during the 2016 Astoria Music Festival.
Darren's work has been widely exhibited, reaching all four corners of the United States, including New York, Atlanta, Santa Fe, Portland as well as the Coos Art Museum in Coos Bay, Oregon. He has been presented awards from the Oregon Arts Commission, the Ford Family Foundation, and the Ucross Foundation Residency Fellowship. His work has been selected for exhibitions by Dominic Iocono of the Syracuse University Art Galleries, Michael Klein of the Microsoft Collection, Nat Trottman of the Guggenheim, Bonnie Laing Malcolmson of the Portland Art Museum, Margaret Bullock of the Tacoma Art Museum, and many others. Academic institutions such as Portland State University, Mt. Hood Community College, Peninsula College, Mt Hood Community College, Lower Columbia College, Oregon Coast Council for the arts have awarded him with solo exhibitions. His work can be found in private, public and corporate collections around the world.

---
May 2017 Exhibit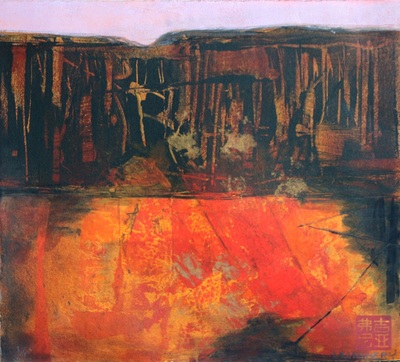 Gin Laughery

Field Notes
Astoria, for generations has been known as a somewhat transient place, with people constantly coming and going. Some merely pass by on freighters, traveling the world's seas from port to port. Others settling to start families well over a century ago, with offspring still calling the area home. Regardless of how many generations were born to this place and remain, there are just as many who have made their mark and moved on. Their time and experience here making an indelible mark. Gin Laughery is one of those people. It is with great pleasure we announce the return of Laughery for her second solo exhibition at Imogen. Laughery brings a new series of monotypes for her show Field Notes, opening during Astoria's Second Saturday Artwalk, May 13th with a reception from 5 – 8 pm. All are invited to come say hello and enjoy food and drink generously provided by the Astoria Coffeehouse and Bistro.

Laughery and her husband, Bill Lind resided in Astoria for forty years before deciding to relocate to Redmond, Oregon this past year. Originally from Eastern Washington, she has always been inspired by the landscape of the high plateau desert. The region has consistently crept into her rich imagery, sharp lines intersect with deep and unexpected nuance of color. It is this landscape that has always been pivotal to her. A place of inspiration that has and remains informative to her work. She describes her transition to another region of the state quite simply, "My love for open space is central to my being. Necessary for balance and the act of breathing fully." She returns to Astoria, fresh with new vision of landscape that she has completely immersed herself within.
Many artists spend years exploring medium and subject matter before finding their primary vehicle of communication. For Gin Laughery, the printmaking process, drew her in immediately, quickly becoming a chosen form to convey her personal ideas and vision of the world around her. Her love of the printmaking process was fostered by the late Royal Nebeker, an artist, educator and former Oregon Arts Commissioner. Nebeker, a legend in his own time was known as an excellent instructor. He encouraged artists and students of all ages to follow their passion, to take their work seriously and push boundaries that even they may not have known existed. Laughery flourished under Nebeker's tutelage; she's dedicated this exhibition to him.

In discussing this current body of work she cites Nebeker's thirteen points, "How to be an Explorer of the World", she goes on to explain how his lesson "became especially relevant following a move from the North Coast to Central Oregon." About this series she also states, "Central Oregon's unique landforms and seasonal changes continue to inspire. Daily walks in a nearby canyon allow impressions of form, movement and pattern. Observations of the stories around me and personal dialogues with the environment allow me to document my findings. These monotypes are my field notes."

Laughery's choice of medium is simple to understand when considering the land she lives within. Printmaking, specifically monotype became a clear choice early on for her. The process itself can be compared to the geological occurrences that created the lands she now lives within. With compression being a key component to the printmaking process, other tools utilized also exemplify early formation of land. Brayers and brushes are used to move and "break" ink, before going to a steel press, to literally force the composition. This action can be likened to a slow moving glacier, changing the surface of terrain by slowly carving and creating texture while revealing nuance of color shift through exposed mineral deposits. Laughery describes her process; "Ink is applied, scraped and layered with brayers and brushes, creating an image in up to 24 layers and eventually transferred to paper using a steel press bed at high pressure. The results are abstract suggestions of place and mood, my response to the natural world."

Returning to Astoria, Laughery shares her intimate connection to her new home, with friends and fans from her past place. Combining observation and memory are critical to her finished compositions. Beautiful and thoughtful rendition of space, most often through abstraction, explore stratification of land with layers of vibrant blankets of tonality. She skillfully weaves color to visually describe the deceivingly complex terrain of the high desert. She invites the viewer to look through geological land structure, considering what may lie beyond the portal of a distant land mass. Atmosphere always playing its role in the characterization of the unique and powerful region of Central Oregon.

Laughery has exhibited her work throughout the Northwest in both solo and group exhibitions. She has had her work juried into the prestigious Au Naturel: Nudes In the 21st Century hosted by Clatsop Community College, The Printmaker's Hand II, held at the Northwind Arts Center in Port Townsend, WA as well as the 2014 Around Oregon Annual at The Arts Center of Corvallis, OR. Laughery is also a founding member of the North Coast Printmakers' Collective, exhibiting annually throughout the North Coast region.

---
April 2017 Exhibit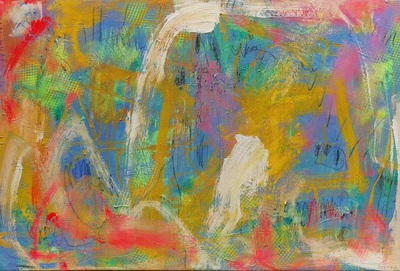 Wild & Whatnot
Imogen is ready and excited to jump into spring with the fresh and bold paintings of Jennifer Mercede. Wild & Whatnot opens for Astoria's Second Saturday Artwalk, April 8th, 2017. Mercede of Portland, Oregon, is well known for her bold, playful and expressive style. For her third solo exhibition at Imogen, she brings a collection of animalia and abstract paintings that are sure to captivate and embody the life forces of spring. The exhibition opens Saturday, April 8th 5 – 8 pm, with a reception. Light bites and drink will be provided by Astoria Coffeehouse and Bistro. Wild & Whatnot will be on view through May 9th.
Jennifer Mercede who has enjoyed a lifelong love of the visual language, is not afraid to bend the rules of painting; in fact she has developed her own set she follows for her mixed medium creations. Not one to fit the mold of a traditionalist, Mercede practices what she preaches. After graduating with a fine arts degree from Western Washington University, Mercede left the academic structure for the more casual atmosphere of the Alberta District in Portland. It was there that she began to practice her own set of rules allowing the freedom that truly defines her style. Working on all scales, each finished painting expresses a quality of joie de vivre, bold and exaggerated use of color and brilliant brush stroke jump from surface, as if trying to escape containment.
Mercede's abstract paintings consist of free flowing text, bright color fields, organic shapes and crazy energetic doodling. She is inspired by color, children's art, old school hip-hop flavor, graffiti, abstract expressionism and inner spirituality. Abstract compositions form intuitively, often bright neon colors and some recognizable imagery. With deliberate subconscious, they reflect how she perceives the surrounding world.
Her painting process consists of gooey, dripping paint, rapid scribbling markers, soft, sensitive lines kissed by colored pencil, and pens gauging into wood. To quote Mercede, "My art is spontaneous, it is just what happens. It's what comes out of me, like an outpouring of consciousness." The work included in this series reflects her interest in animal life, "bold animal paintings and wildly expressive abstracts are created by following whatever may lead me." In Mercede's confident and freedom loving approach, there is no such thing as a mistake. About her process she states, "I stay spontaneous and pay attention to the painting, letting it tell me when it is finished, picking up whatever color paint needs to be used, whatever marker looks/feels right, a pen when I feel a pen.
Mercede, who has exhibited her work throughout the country, has also illustrated and published a children's book, been a featured artist on OPB's ArtBeat program, and created a two story tall mural on the façade of the Grand Rapids Children's Museum, to name just a few of her accomplishments.

---
March 2017 Exhibit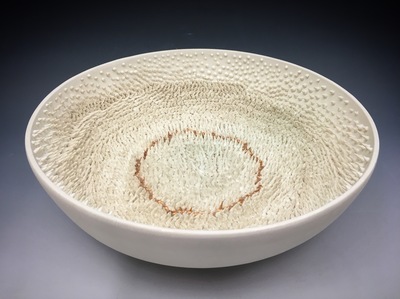 Ceramics on the Edge
Imogen is honored to be participating in the 2017 National Council on Education for the Ceramic Arts (NCECA) as a satellite venue. This year's event, brings ceramic artists and enthusiasts from all over the country to Portland for its 51st annual conference. Imogen is excited to be a participating venue and is hosting an exhibition focusing on the ceramic arts of our own represented artists. Amy Fields, Barb Campbell, Javier Cervantes, Robin Hominiuk, Aaron Murray and Christos Koutsouras, are participating in this special exhibition, celebrating clay in all forms. The exhibition will open for Astoria's Second Saturday Artwalk, March 11th with a reception for the artists, 5 – 8 pm. All are invited to attend and enjoy good company and conversation with the artists. Light bites and beverages will be provided by the Astoria Coffeehouse and Bistro. The exhibition will be on view through April 4th.

NCECA, a non-profit organization founded in 1966, today enjoys a membership over 4,000 strong. The annual conference, which takes place in different cities across the nation each year, is the world's largest event, focusing solely on the field of ceramic arts. The unique artist-run organization provides valuable resources and support for individuals, schools and organizations with shared interests. To learn more about the organization and this year's event in Portland, March 22 – 25th, please check their website. https://nceca.net/ The conference will be held at the Oregon Convention Center, but extends far beyond the boundaries of that space, with outside venues showcasing diverse exhibitions throughout Portland and the state, all celebrating the ceramic art form. Imogen Gallery is the only venue located on the Oregon coast to participate in the event.

This year's conference title is "Future Flux" and focuses on the evolution of ceramic arts. The 2017 conference is described by NCECA organizers here: "As journey's end for Lewis and Clark in the early 19th century, expedition and discovery have framed our imagination of the Pacific Northwest. As we pass beyond NCECA's first fifty years, the interconnection of mind, materials, and transformation at the heart of ceramic process, art and education can serve as trail heads to our future. Our creative work in the 21st century increasingly engages with hybrid practices, issues of diversity, notions of community and dynamic change."

With that theme in mind, Imogen Gallery presents a group exhibition of several represented artists exploring firing process, building technique, surface treatment and form.

Barb Campbell and her husband Javier Cervantes who live in Corvallis and Oaxaca, Mexico, are known for their distinct styles. Both artists have spent over 40 years developing their techniques and skills, working in both tradition firing processes as well as intensive study and use of wood firing techniques. Cervantes, who at a young age visited the Museum of Anthropology in Mexico City, became fascinated by the sculptural and functional object of early pre-Hispanic cultures of Nayarit, Michoacan, Veracruz, and Oaxaca. These artifacts have consistently informed Cervantes in his own sculptural work for decades. Barb Campbell whose work is widely recognized and collected also brings several wood fired vessels. Campbell, who primarily focuses on hand built pieces is known for incorporating a great deal of surface design to her forms. Utilizing whatever tools may be at hand, she presses and carves into each piece, creating unique design that echoes the element of a fine drawing or etching. During her last trip to Mexico, she worked directly with a well-respected paper maker in Oaxaca. She gathered local flora and pigments to utilize within her own handmade paper. These were exploratory pieces, which echo some of her ideas utilized in her clay work. There will be a series of her paper work included to the exhibition.

Amy Fields of Portland is a ceramic artist who is constantly exploring new ideas for extreme surface treatment, enhanced by firing process. Working in mid-range electric fired porcelain as well as high-fired stoneware and porcelain, her wheel thrown and hand altered pieces vary from utilitarian to strictly sculptural. She incorporates hand drawn and tactile elements to her forms. About her work, she states: "Clay has been a life-long passion for me. I learned to throw on the wheel when I was 16 and was hand building for years before that. I received my BFA from the NYSCC@Alfred University with a concentration in ceramics. Lured by the landscape I eventually moved out to Portland, Oregon. I am continually fascinated by repetition, texture and the inner workings of things whether it's the skeletal structure of a bird, veins in a leaf or rows of crops in a field. I am equally inspired by function, nature, and texture."

Clay artist, Robin Hominiuk of Seattle, brings a series of wood-fired vessels inspired by the natural process of erosion of river rock. Her large scale pieces titled the "Disambiguation Series", echo the lines and relief surface altered by hundreds of years of running water. In her clay work, she interprets elements of subtlety of rock formation and evolution, through a combination of wheel thrown and hand-building techniques, further enhanced by the organic process of atmospheric firing. Subtle coloration and texture created by combustibles in the process and/ or surface treatment of added porcelain slip, create gorgeous hues and texture suggesting the slow process of nature's work.

Christos Koutsouras, known internationally for his paintings and drawings, recently spent an intensive period of time working with a ceramic artist in Greece, where Christos is from. His last trip to his home island of Samos led him to exclusively focus on three-dimensional work. He brings a series of small figurative pieces, made from raku fired, Italian clay. The rough and primitive forms echo ancient artifacts, reminiscent of fertility figures. About the series he explains: "I came to meet Giorgos Nomikos, a Greek ceramic artist during the filming of a documentary I had been invited to participate in. The focus was on six artists, their life, work and relation to Samos, the island I am from. I have always had the wish and intention to try my skills in three dimensional expression. The human figure as a subject matter came naturally to me as I have spent years dealing with the human form in my drawings, paintings and printmaking. According to the Greek philosopher, Empedocles, the beginning of all things is based in the four elements, earth, air, water and fire, which one can find in the use of clay. The material is a course clay from Italy, and the firing method is raku."

We also include the work of Aaron Murray, an artist and educator from Seattle. Murray is known for his wry and whimsical folk art. His love of animal form and patterns of nature enters into his finished work. A sense of immediacy and personality is entrenched in each piece created. Aaron, like Javier Cervantes, also become inspired by both ancient artifact and craft of Mexico after visiting Oaxaca at an early age. He has been working in clay for over 25 years, utilizing porcelain and earthenware. For this exhibition he brings a series of vases and jars, based on his self-described fascination with antique utilitarian crockery and animal symbolism


---