July 2020 Exhibit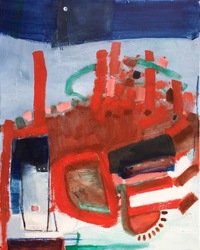 Diane Kingzett
Dig In

We are excited to welcome back Diane Kingzett of Portland for her fourth solo exhibition at Imogen. Describing herself as a painter of emotion, Kingzett brings a new series of oil and mixed medium abstract paintings titled Dig In. Within her process she leaves preconceived ideas of content and composition to consider her own internal dialogue, allowing psyche to become muse. The exhibition, Dig In, will open for Astoria's Second Saturday Artwalk, July 11. Kingzett will be present that evening from 5 – 8 pm and available to answer questions about her work. The gallery is now open Monday and Thursday – Saturday, 12 – 5 pm and Sunday 12 – 4 pm. We are also available by appointment for private viewing. The exhibition will remain on view through August 4.

Diane Kingzett is an artist who creates from an intuitive approach: her own response to outside circumstances help to form her imagery. Places she's been, memories of experiences and events, for better or worse, are all open to consideration once in the studio. As an artist, she conscientiously utilizes this in her painting practice as a tool to compartmentalize and process life changing events, in this case from a place of profound loss. Through her art she grapples with grief, taking it on with honesty and truth no matter how messy that process can be.

Within this series, Kingzett's work conveys in sublime and provocative ways elements echoing her own response and impression to traveling through grief while holding onto humor as an anchor to survival. Through abstraction, her compositions might bring vague imprint of place which for her are personal documentations of time and memory. With calculated use of palette, exquisite deep blues to intense and passionate pink blocked by black all lend to elements of landscape while offering a sense of haunting mystery and a nod to the unknown, much like death itself. Pale washes of grey over warm infused color defined by thoughtful use of line and distinct calculated mark making echo the impressions of the day to day experience of moving through grief. These marks define the marching forward of time, while looking back to things that will never be the same again. Kingzett's paintings provide space for that intuitive consideration of process through an ethereal sense of reality.

About this series she states,
"Someday I'll be a weather-beaten skull resting on a grass pillow, serenaded by a stray bird or two. Kings and commoners end up the same, no more enduring than last night's dream." (Ryokan:1758-1831, Japanese Zen Buddhist monk)

These paintings are my personal conversation with death and grief. Honor and freedom reside in being offered crushing grief. When it is our turn to process great loss we are afforded true ownership of our very own, private process. Dig in to it, sleep on it, talk it through, drink it away, laugh it off, hold it up to the light, burn it, spit at it, cherish it, antagonize it, let it go, clutch it near your chest, outrun it, interrogate it, outsmart it, remember it, forget it, toss it to the stars, bury it in garden debris, keep it, guild it, forgive it, fuck it, release it, rinse, repeat.

Each of these paintings represents a day in the process of grief. Memories of specific places, tiny excerpts of previously forgotten conversations with those who have left, regrets, hopes, moments of clarity and areas of confusion. Days of rolling a boulder up a hill, days of letting that same boulder crash to the earth below. All reliably lead to the same place, freedom, finality, release.

In the words of Caddyshack's Carl Spackler as spoken to the Dalai Lama…

And I say, "Hey, Lama, hey, how about a little something, you know, for the effort, you know." And the Dalai Lama replies, "Oh, uh, there won't be any money, but when you die, on your deathbed, you will receive total consciousness." So I got that goin' for me, which is nice.

Each painting represents a collection of memory, putting it into a place of understanding, even acceptance in relinquishing oneself to profound loss. Her work is not an attempt to mirror what she sees, but through reflection of emotional response she constructs imagery to create beauty, clarity, and resolve out of debilitating heartache.

Kingzett, who has painted for over 30 years earned her BFA at West Virginia University and studied at the San Francisco Art Institute as well as the Vermont Studio Center. Having lived in all four corners of the country, Kingzett has taken inspiration from her experiences and utilized that towards the development of her work as a painter. She has recently added silversmithing to her repertoire of creative expression. We are thrilled to offer her exquisite bezel set stone jewelry pieces along with her new collection of paintings.

---
June 2020 Exhibit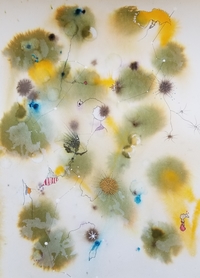 My Harmless Little Monsters
Linden

We are excited to welcome back long time Astoria artist Linden who has returned to her roots. Known for her evocative abstracted paintings Linden brings a whimsical collection of new ink and watercolor paintings for her third solo show at Imogen. This series, My Harmless Little Monsters is exemplary of her exploration of process and experience through intuitive painting. The exhibition open Saturday, June 13 and will be on view through July 7th. We will be open Saturday, June 13 12:00 – 5:00.
Linden's current series, My Harmless Little Monsters is a delightful collection of mostly paintings on paper. She infuses her warm and welcoming palette with subtle constructed drawing elements depicting curious creatures from her own fantasy world. Portraying joyful personality within her abstractions, each piece is sure to delight with lightness and a strong sense of play. For Linden her finished compositions are all about her process, beginning to end. Painting for her has become a sort of ritual or meditation, allowing her psyche to flow from her subconscious to whatever drawing and/or painting implement she might be holding in hand to then find its place on paper. Her lines provide connection from one point of substrate to the other, carefully held together by sheer and luminous use of color. Some of her compositions contain elements of story while others lead back to bursts of pigment freely moving across the page.
About her current series and her process she states:
"This body of work represents a huge milestone in my creative life. I finally feel settled enough
emotionally and physically to just 'let 'er rip'. As much as others think making art is simple and easily
done, I'm here to say: Not so much. The Creative Process is one of the most complex and compelling endeavors we can undertake. I liken it to both self-administered brain surgery and psychoanalysis.
And yet, we can't NOT do it."

Linden conveys thought and idea through abstraction, allowing her the freedom to thoroughly explore the visual language by reducing forms to suggestion of content. Her goal is to allow the viewer to participate in her process of analogy and perception. These works display a fresh boldness that seem to jump from surface, while still honoring past influences and input.

Beginning her studies at Clatsop Community College, Linden sites the late instructors and founders of the CCC art department Royal Nebeker and Roy Garrison as instrumental in her development as a fine artist. She continued her studies at Pacific Northwest College of Art where she earned a Bachelor of Fine Arts, focusing both on painting and sculpture. Relocating to the Bay Area in the late 90's, Linden continued her career while also teaching. In Benicia, California she founded a school dedicated to the education of all fine art practices for all ages. Linden opened the school under the premise that "the innate creativity that we have as children isn't ever really lost. It just needs to be fed so it can blossom." The Linden Tree is still in operation today with the same mission that Linden founded it under. She has exhibited throughout the northwest as well further locales, including Chicago. She began her local exhibition career at the former Ricciardi Art Gallery in 1996. Some of her accomplishments include a "Juror's Award" for sculpture created for the 2003 Journey's End International Art Exhibition held at Clatsop County Heritage Museum. Her paintings have been juried into the 12th Around Oregon Annual exhibition held at the Art Center in Corvallis, OR by Martha Lee, director and owner of Russo Lee Gallery in Portland, OR. Her work is included in the permanent collection of Clatsop Community College, Pacific Northwest College of Art and the Astoria Public Library.

As we are all adjusting to a new normal along with health needs of our community we will be working hard to keep the space clean. We also ask that visitors wear face masks, if you don't have one we are happy to provide one for you. We are also available by appointment for private viewing if that feels more comfortable. And as always the exhibition can be viewed online via our website, imogengallery.com

---
May 2020 Exhibit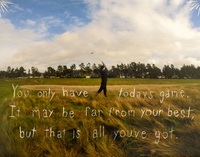 Don Frank

The Summer of Letters
In this time where nothing is as it was, many of us are reflecting on what really matters in life. The importance of friends and family while navigating challenging times together but apart seems to be our common denominator. So, as they say…."The show must go on." And with that we are pleased to present a solo exhibition for the talented North Coast photographer, Don Frank. Known for his compelling and sometimes quirky compositions of the coastal region, Frank brings a new series of work which includes photographic based imagery as well as three dimensional wall hung pieces. Summer of Letters is a collection of work inspired directly by Frank's love of golf applied to the philosophy of life. The exhibition can be viewed online via our website imogengallery.com or by appointment for in person viewing, May 9th through June 9th.

Artists have always taken a strong role in narrating the complexity of life, providing a window to safely step back from day to day challenges in order to ease the burden that reality can bring. Don Frank, known regionally for his compelling sense of composition, has always tended to bring what might be considered the more obscure to the foreground. His slightly sardonic worldview seeps into powerful imagery that lends to good storytelling. For this series, he delves deep into the world of golf to consider the parallels between the game and life itself. He brings witty commentary within his altered photographic imagery of golf courses, scratched photographs as he refers to them, as well as sculptural pieces utilizing reclaimed remnants from the game.

In discussing his thoughts behind the content of the series as well as the game of golf itself Frank states: "It is interminably difficult yet easy at the same time. If one thing goes right, ten things can go wrong. Or vice versa. Many who play compare it to the struggle of daily life: exhilarating, disappointing, confusing, overwhelming, inspiring… And those are just the swing thoughts as one brings the club back. In reality, it doesn't mean anything. Golf is simply an exercise in being human and at the end, if you care, you count up what you've done and measure yourself against your peers and foes. Like life, does it really matter? That depends on the person playing, or living."

For this exhibition, Frank explores his ideas through the lens of his camera, bringing the beauty of landscape within his photographs of many of the golf courses he has visited. Always looking for new ways to express his creative ideas, Frank alters his photographs to personalize them, adding a rough touch to an otherwise pristine and controlled landscape. He adds quotes that are wry, colloquial, or relate to the absurdity of golf and life. This roughness is echoed with his foray into the sculptural realm. He chose to utilize discarded remnants from the game itself to create beautiful and raw patterns of color and texture. About his three dimensional pieces he states: "These objects are the detritus of the game. The tee markers signal where to begin. The flags tell you where to end. But nothing is permanent and each item has a life span until it is deemed unusable. Sound familiar? But there is hope, like waking each morning with the optimism that today will be a great day on or off the course. People can be granted second chances to fulfill their purpose and these pieces of golf's machinations can too. The game of life will trudge forward to that steady drum of existence that can only be experienced, not explained."

Frank has enjoyed a career that has taken his work across the country both in galleries and in private collections, including the Museum of Contemporary Photography, Chicago and the Center for Fine Art Photography in Colorado.

Imogen Gallery is currently closed to walk in clientele. Private viewing by appointment is available. Please follow us online via Facebook and Instagram and check our website for the full exhibition. We can be contacted through our website, email imogengallery@gmail.com or by phone 503.468.0620. And please support your favorite artists.

---
April 2020 Exhibit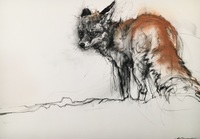 April Coppini

Inescapable Gaze
In a time of uncertainty there is one thing that does remain certain; art is a necessity in our lives. With that in mind, we invite you to reach into alternative resources to participate and engage with art. Tune into your favorite radio station, listen from the comfort of your own dwelling to online concerts, share that poem that brings you comfort and connection, and view those exhibitions you'd normally visit in a gallery or museum online. Your favorite artists are still out there, creating and communicating, albeit from alternative platforms. Artists have always been generous in what they do, whether that is to connect what's good about humanity, or record an imprint of challenging times. They create and share with the goal of easing burden, fear, and struggle; to uplift and bring peace to the unknown. With that said, we present an exhibition by internationally respected artist April Coppini. Inescapable Gaze will be available for viewing online or by appointment April 11 – May 5.

Coppini, known for her passionate interest in all creatures and their importance to place, brings a series of gorgeously rendered charcoal drawings. She portrays a focused record in her subject matter depicting the wild and unseen side of animalia. A slight tension of muscle before a possible leap, or the look of pensive awareness in preparation for escape from a possible predator, are all elegantly conveyed through beautiful and gestural mark making. With the underlying message of the importance of all creatures and their independent role to ecosystem and/or as pollinators, predators, scavengers or even domesticated animals, Coppini asks the viewer to consider the role our species takes (or doesn't) in protecting the delicate relationship between mankind and animal as well as a direct reminder of our symbiotic relationship to all life on a global level. Coppini states: "We humans have this role as stewards, if not because most of the ecological difficulties we're experiencing are human-caused, but because that's who we are. We are caretakers by nature. A duty that as a species connected to all other living things on this planet, we have (mostly) abused and/or neglected. We also have capacity for greatness and beauty. A calling to responsibility and redemption. I feel this tipping point we are coming to in my heart, in my body, my spirit, in the shifting energy of my work and in the frenetic, tumultuous energy of the world right now (ecologically, politically, socially). I feel the other species we share the planet with turning their gaze to us, as stewards, in our moment, to see; what will we do?"

Coppini tends to focus primarily on charcoal for her chosen medium because of "its immediacy and forgiving nature". For her, the starkness of black on white strikes a basic and guttural cord. Within this series there are several pieces that include color, pure blocks as background which help to define emotive qualities or even echo elements of subject matter while still allowing for the dominant line of charcoal do its work. The stark juxtaposition lends to the overall power and drama conveyed in each piece.

Coppini has also taken great interest in the rapid disappearance of honey bees, also known as "colony collapse disorder". As a result she has created over 1000 drawings of bees. Her hopes in this practice is to create awareness of the significance bumble bees have on mankind. In her own words, Coppini states, "I believe, foolishly or not, in the possibilities of the human race. I believe the act of being called on to make these drawings is something that comes from a force bigger than us. Its stating, here's what needs attention, listen to the fables being told here. What we do next, what happens to all the imperiled species is, quite literally, up in the air." Coppini has taken the cause to heart, not only by creating her luscious drawings of bumble bees in flight, but also donating a portion of the sale of each bee drawing to the Xerces Society for pollination research and conservation.

---
March 2020 Exhibition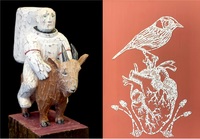 Mutualism

Kim Hamblin and Christopher Wagner

Imogen Gallery is pleased to be presenting a two person exhibition for artists Kim Hamblin and Christopher Wagner. Linked by a common background in farming, the two bring a series of work inspired by elements important to the lifestyle. Based from personal experiences they explore connectivity of mankind to nature. Mutualism is a close look through metaphor about the relationship between man and horticulture. The exhibition opens for Astoria's Second Saturday Artwalk, March 14th, 5 – 8 pm. Mutualism will remain on display through April 7th.
Working in two distinctly different mediums but sharing the common element of a cutting tool, Hamblin and Wagner bring a new series depicting elements important to the farming culture combined with a common interest in animals, both domesticated and wild, as well as plant life. By definition mutualism is: a) the doctrine that mutual dependence is necessary to social well-being b) symbiosis that is beneficial to both organisms involved.

With that in mind Kim Hamblin brings a new collection of her intricate hand cut paper assemblages exploring her ongoing interest in connectivity between flora and fauna and the ensuing dialogue with humans. She brings complex compositions that visually narrate her passionate plea for all to consider on the loss of species and habitat. Christopher Wagner provides newly carved and painted reclaimed wood sculpture depicting man's relationship with animals, some of which are exploited while others are protected. He utilizes his personal experiences with animals to illustrate the direct link between man and domesticated animal and the symbiotic relationship that ensues.

Both artists enjoy working in a very direct, hands on manner, gravitating to mediums that require use of working carefully in tandem, with hand tools. Hamblin has spent years honing the ancient art from of paper cutting, a delicate and tedious practice that originated in 6th century China. Regarded as an art form that requires careful forethought and concentration, Hamblin considers it therapeutic, utilizing the practice as focus and relaxation from her busy life style. Christopher Wagner is a sculptor who typically works with reclaimed wood that comes with its own history, imperfections from nail holes and past use become a part of his finished hand carved three dimensional forms. His love of wood as artistic medium developed early as he enjoyed carving/whittling with his grandfather on the family farm in Kentucky. At a young age he delighted in the process of revealing something meaningful from a raw piece of wood.

Kim Hamblin of Sheridan, Oregon is a woman who wears many hats. Besides being known throughout the northwest for her intricate paper-cut assemblages, she is also a farmer, realtor, music festival organizer, winemaker and mom. Hamblin resides on a 50 acre farm called Roshambo ArtFarm, located in the Willamette Valley where she and her husband keep pastures for rescue sheep, alpacas & chickens, they also maintain apple, quince and pear orchards, ferment cider & wine and host an annual music festival, the Wildwood MusicFest. Her interests are vast but always connect in a meaningful way to her artistic endeavors.

Specific to her artwork, inspiration is gleaned from her lifelong love of the sciences; particularly anatomy, botany, biology, entomology and zoology. The focal point of her work is not merely subject matter and imagery, process also becomes quintessential to each finished piece. Hamblin's use and application of materials goes beyond traditional paper cut assemblage. By adding painted surface and nails to further enhance tessellation and texture, Hamblin adds an industrial nature to the delicateness of pattern revealed in each paper cut. The juxtaposition between paper and steel make for a unique and striking finished composition. For much of this series she limits her color scheme to a grayscale palette "to represent the disappearance of flora and fauna and subsequent vacancies left behind." She also utilizes imagery of the human heart to represent ourselves and "how we can use love, appreciation and respect to shift our place in this world."

About this series Hamblin states, "The complexity of nature is just beginning to be understood by us humans. We need to stop with the destruction of her for our convenience and civilization and devise new ways, like permaculture and the old ways like those of indigenous peoples, to bring back balance between mankind and the natural world." She goes on to say "Nature is interdependent and does not exist in a vacuum, what happens to one species affects the other. Species depend on each other for survival. We need to stop poisoning ourselves and her. We need to change our farming practices. We need to protect Nature now and leave space for her whether it be a corner in your yard or protected forests, prairies and mountains. The disappearance of species and the species that rely on them has been happening since the industrial revolution and its escalating. Cue recent news stories: the insect apocalypse, massive bird die offs, biological annihilation, massive fires, the warming of oceans; it's hard to not get overwhelmed. I am just one person. Here is where I choose to begin, in the familiar, at the farm, in the art."

Christopher Wagner, who grew up on a farm in rural Kentucky has held a strong interest in the symbiotic relationship between man and domesticated animal. For his third exhibition at Imogen, he brings an impressive collection of figurative sculpture that explores through metaphor the longstanding relationship between man and beast, a connection that goes back to the beginning of mankind, forming a longstanding mutual reliance for survival between the two. Wagner directly and literally narrates the balance of that relationship, man leaning on animal and vice versa, sometimes through the perspective of the animal.

About this series he states, "My animal and human imagery bring into question our relationships with animals. Some of which are exploited others are protected. Many times that relationship can shift dramatically. All the animals I carve come from a personal connection or experience. The stylizations I use are intended to emphasize the spiritual or intellectual longings of humans. This can be seen in the elongation of limbs or the extending of necks meant to show a yearning to extend beyond ourselves."

For Wagner, his process and choice of medium is integral to his finished work. The reclaimed wood he selects is chosen because of its past marks of time and history, adding a naturally aged appearance, not to be mimicked through immediacy. He utilizes traditional carving techniques to pull his imagery from the grain of the wood, incorporating any marks or scars into the finished composition. The piece is then finished with milk paint, one of the oldest forms of water based paint, made from milk, lime and raw pigments. Color is applied to define content and in many cases adding a level of approachability. Wagner has exhibited his work from coast to coast and many places in between. He possesses an M.F.A. in sculpture from Edinboro University and a B.A. in art with a dual concentration in history and sculpture from Georgetown College.