January 2020 Exhibit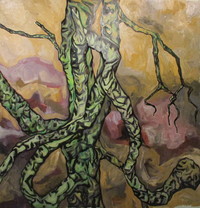 Roger Hayes

Pacific Northwest Trees

Local favorite and internationally acclaimed outsider artist Roger Hayes returns to Imogen for his fourth solo exhibition. This series Hayes turns his focus to the mythos of the great Pacific Northwest trees of the coastal region. Painting primarily in acrylic, he brings a collection of abstract and representational paintings considering physical attributes as well as metaphoric content through the totemic connection to land and sky. Pacific Northwest Trees opens during Astoria's Second Saturday Artwalk, January 11, with a reception for the artist 5 – 8 pm. The show will be on display through February 4th.

Building on the theme of his last solo exhibition at Imogen, Roger Hayes forays deeper into the forests of the coastal range. He brings large scale acrylic and oil paintings focusing on the strength, beauty and symbiotic connectivity between trees, bridging earth and atmosphere. His interest stems from the obvious of environmental concerns but also crossing into the deeper connection of metaphysics and social structure of these towering giants. About this current series he states:

Trees define the Northwest environment and create boundaries that ripple for miles, joining environments that surpass our districts through a natural order.

There is some risk of even cueing into a trendy point of focus with this topic, as we scramble to find solutions to stabilize a rapidly changing environment.

It is hard not to think of a tree as a neural connection between the sky and the earth, with cell like dendrites extending into the sky, and axons terminating in the earth. It strengthens the image of trees as sustaining the exchange of chemical messengers.

My interest in trees may have more to do with expressions of individuality, character and symbolism. Trees, like iconic and archaic animals also reach far back into the human psyche, and are also likely to be highly charged and evocative.

Trees are also linked in complex networks with other organisms, and form colonies. Yet an image persists of the weather distraught solitary tree on a perch, withstanding millennia of solitude.

I can think of no better expressionist, or primitivist icon than a tree that both calls on the hallowed rites of millennia, or shuns the populace for a lonely and craggy vista.

Hayes, who hails from the gritty streets of Detroit, studied ambiguously the constant evolution of sides of buildings, billboards, and passing trains created by graffiti artists whose only canvas was the city itself. He has enjoyed a colorful and eclectic career as a painter, extending well beyond the diverse art community of Astoria, Oregon, establishing himself early on in his career into what was known as the International Neo-Expressionist movement. His work has been exhibited extensively throughout the great cities of the Mid-West prior to his inclusion in European exhibitions. He has participated in exhibitions throughout France, Switzerland, Argentina and many other destinations.

---
December 2019 Exhibit
Hook, Pulp and Weave
An Exploration of Fiber as Medium

Celebrate the holidays with Imogen as we host a rich and diverse invitational exhibition exploring fiber. Functional and non-functional work will be included in this unique exhibition of textile based arts. Color, texture and composition form the backbone of this diverse collection including a new selection of artist-made paper lights and jewelry by Lâm Quãng and Kestrel Gates of HiiH Lights, wall hung mixed fiber art pieces by Susan Circone, hand dyed silk scarves and wraps from Iris Sullivan Daire, and needle felted wool characters by Patti Breidenbach are just a few of the exquisite and whimsical examples of fiber in art to be presented for the exhibition. The exhibition will open for Astoria's Second Saturday Artwalk, December 14th with a reception for the artists, 5 – 8 pm. All are invited to attend and enjoy good company and cheer. Food and drink will be provided by the Astoria Coffeehouse and Bistro.

Fiber based art has a long running history, with weaving techniques dating back to Neolithic times some 12,000 years ago. It is respected as one of the oldest surviving craft forms in the world that evolved from multiple cultures, including the Incans who utilized textiles as currency, which held a more prominent role then gold for trade. Native Americans, for centuries have created elaborate basketry for all uses, including vessels that were water tight, made from regionally known plant materials. Middle Eastern nomadic tribes, have been respected for intricate hand knotted rugs made of wool and silk, dating back over 4000 years, and the rich illustrative tapestries of the 14th and 15th centuries of European cultures, all helped to forge what we appreciate as textile based art today. The term "fiber arts" came to be applied much later; post World War II with the insurgence of the craft movement. With this came the recognition of craft as fine art and the diminished idea of utilitarian needs.

Hook, Pulp and Weave is a collection of just a few examples of what textile or fiber arts has evolved into. With the lessening of the importance of function, and the consideration of pure artistic concept being delivered through the fiber medium, artists have found a new voice to explore ancient arts, utilizing texture, color and form. While much of the work included to this exhibition is functional, many pieces are based strictly on principle of art form, utilizing fiber to create compelling and complex pieces.

Susan Circone of Portland, brings intricate wall hung abstract compositions focusing on brilliant use of texture, pattern and nuance of color. Coming from a former career in geological sciences, her compositions are inspired by nature. About her work she states: "Paying homage to the curvilinear nature of organic forms, especially at the microscopic scale, is the main focus of my work. Repetition
of these cell shapes and strings creates the visual vocabulary and textures that interest me. Depth is created through the layering of dyes or discharge of color, silk organza, and manipulated cheesecloth bound to a foundation layer with embroidery floss and hand stitching.A new direction of work explores grids and lines through the manipulation of cheesecloth or whole cloth dye monoprints. In both cases, the work relates to my background in science and my observation of the world around me.
Julie Kern Smith also of Portland, returns with her rich and sophisticated wraps made of nuno felted wool and repurposed silk, from vintage scarves and kimonos. Her choice of materials are exquisitely brought together through fusion of fiber, creating rich and tactile wearable art forms.

If you are looking to support local artists this year for your holiday gift giving, Astoria represents. We are excited to include a diverse array of fiber based work by local artists, Lâm Quãng and Kestrel Gates of HiiH Lights, Iris Sullivan Daire, Patti Breidenbach, Kathy Karbo and Celeste Olivares. Husband and wife team Lâm Quãng and Kestrel Gates of HiiH Lights, bring new sculptural lighting and jewelry. Their work is an elegant fusion of purposeful and sculptural, created from their own handmade paper and enhanced with natural pigments. Fiber artist, Iris Sullivan Daire of Astoria includes her plant based hand dyed botanical silk scarves, and wall pieces, she is known near and far as a master of natural dying techniques. Patti Breidenbach brings the story with her whimsical collection of Alice in Wonderland characters created from needle felted wool. Both wall hung work and three dimensional figures are sure to delight. Celeste Olivares, also known as one of the "tango twins" as she teaches tango with her twin sister at the Astoria Arts and Movement Center, offers her exquisitely crafted jewelry. Olivares' needle woven beaded necklaces and earrings are exotic one of a kind brilliant designs. She utilizes semi-precious stones, vintage glass and crystal along with found objects. She carefully combines brilliant color and form with an end result of timeless and original jewelry pieces. Kathy Karbo returns with her hand cut paper installation work, this year focusing on the mythology and historical importance of the pomegranate. Hook, Pulp and Weave is an eclectic, tactile and exciting blend of fiber forms that all will enjoy.

---
November 2019 Exhibit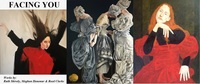 Facing You
An Exploration of Portraiture

Imogen is pleased to be presenting the fifth annual invitational exhibition exploring humanity through portraiture. This year's exhibition will include the sublime paintings of Reed Clarke, Meghann Hanour and Ruth Shively, all exploring the essence of humanity. This evocative collection moves beyond a surface glance of an individual, inviting the viewer a step closer and to consider the underlying. Perhaps even to see ourselves through the eyes of others, and what it means to be a part of mankind. Each portrait tells a story, we invite you to participate. The exhibition will open for Astoria's Second Saturday Artwalk, November 9th with a reception for the artists, 5 – 8 pm. All are invited to attend and enjoy good company, food and drink, provided by the Astoria Coffeehouse and Bistro. The exhibition will be on view November 9th thru December 10th.
Many artists at some point in their career have placed focus on the human form as subject matter, for some it's a practice of study, for others it's a means to participate with humanity on a more intimate level. Artists Reed Clarke, Meghann Hanour and Ruth Shively fall into that category. Portraiture becomes a vehicle utilized to explore deeper reflection of who we are, what we convey without speaking, simply by stance, expression or direction of gaze. These artists, all incredibly skilled with chosen medium, bring suggestion of story and history through portrayal of individuals.

Reed Clarke of Portland, Oregon has dedicated much of his career as a fine artist painting others. Known for his skill as a painter and printmaker, he has had his work juried into Clatsop Community College's prestigious Au Naturel: Nudes in the 21st Century exhibition several years running, receiving a first prize award as well as a purchase award from CCC. He has exhibited his work throughout Portland including a show at the White Gallery of Portland State University. For Imogen's fifth exhibition Facing You, he brings yet another strong collection of work, inviting the viewer to perhaps create their own story. His skill is apparent in the nuance of palette to create mood and emotion through an intimate look and consideration into another's experience, perhaps with a goal of fostering greater understanding and acceptance of who we are. About this series he states:
"Faces and figures inhabit all my paintings and when I try to stray from this subject something I can't resist always calls me back. In my work I hope to elicit a statement about being human that is familiar, and also seems impossible to say as clearly or completely in other mediums. Many of my paintings exhibited in this show are specific people: a writer, a weaver, a poet, a child soldier, etc. and I hope to have imparted some degree of a palpable and potent humanity in these paintings. The idea of restricting myself to a human subject and the discipline that presenting such a subject imposes on the composition is something I value. When possible I seek to emphasize the geometric shapes formed by different part of the composition and bring out the abstract surface rhythms of the composition. Ultimately however, I'm striving for a balance between recording a human subject that is compelling and creating a paint surface on the canvas that engages and rewards the viewer."

Imogen is pleased to welcome back the dramatic work of Astoria artist Meghann Hanour. Hanour who is primarily a self-taught artist brings a large scale acrylic painting on canvas as well as several drawings, representing preliminary work for her larger scale paintings. Her work for 20 plus years has been informed by humanity, primarily depictions of women. Hanour's command of the figure is without question impressive, both in scale and complexity of posture. She exhibits grace and confidence within every gestural mark, creating powerful and narrative story of strength, endurance and a passion for freedom. Her work is informed in much part by the human experience, particularly through the struggles of women, battling to care, nurture and protect offspring while still fighting for the dignity of freedom of self.

Hanour spends countless hours developing her composition before bringing paint to canvas, creating her own period wardrobe for her models. About her process she elaborates: "I start a painting by first sewing garments for my models, then posing and photographing them to help build lines and images before a brushstroke occurs. I work on big canvases, capturing movement, gesture, joy and pain in my work. Compelled to create beauty and narrative, the ace I feel never relents."

We also welcome back Ruth Shively a Portland based artist. Like Hanour she is drawn to imagery of women, portraying quiet resilience and an innate sense of strength and beauty. About her work she states: "I work largely with the figure, concentrating on women. In awe of the strength women behold, I feel the need to express their character through my work. I can't explain how I choose my subjects, I go with my instinct and immediate feelings and drawn to stark, positive/negative space. I like humor, mysteriousness and intimate mood, wanting the viewer to make their own interpretation. I studied drawing and illustration in school but I'm a self-taught painter and prefer this medium as I love the spontaneity of the paint and using color to create space." Shively, who grew up in the Midwest has lived in Paris, New York City, Minneapolis and now Portland. She has exhibited her work in numerous group and solo exhibitions that have taken her from Los Angeles to New York and many venues in between.

---
October 2019 Exhibit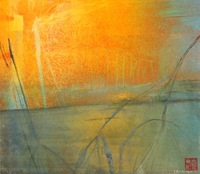 Gin Laughery
Elements and Patterns

Printmaker Gin Laughery, a former Astoria resident returns for her third solo show at Imogen. Laughery, who traded the coastal terrain of the upper left edge of Oregon for the high plateau desert region of Central Oregon, brings a rich collection of monotype prints. Within this series she depicts landscape imagery through abstraction and subtle use of color and texture. Please join us in welcoming Gin back to town and take in her latest series of intuitive prints. Elements and Patterns opens during Astoria's Second Saturday Artwalk, October 12th with a reception from 5 – 8 pm. All are invited to come say hello and enjoy food and drink generously provided by the Astoria Coffeehouse and Bistro. The exhibition will be on view through November 5.

Laughery had resided in Astoria for decades before relocating to Redmond, Oregon. Originally from Eastern Washington, she has always been inspired by the landscape of the high plateau desert. The region has consistently crept into her rich imagery where sharp lines intersect with deep and unexpected nuance of color. It is this landscape that has always been pivotal to her. A place of inspiration that has and remains informative to her work. Laughery spends countless hours within the vast landscape she now calls home, enjoying hiking, skiing, kayaking amongst other outdoor activities. She readily interprets the same terrain through the printmaking process, sharing a focused collection inspired by her surroundings of the high desert.

Many artists spend years exploring medium and subject matter before finding their primary vehicle of communication. For Gin Laughery, the printmaking process, drew her in immediately, quickly becoming a chosen form to convey her personal ideas and vision of the world around her. Her love of printmaking was fostered by the late Royal Nebeker, an artist, educator and former Oregon Arts Commissioner. Laughery's choice of medium is simple to understand when considering the land she lives within. Printmaking, specifically monotype became a clear choice early on for her. The process itself can be compared to the geological occurrences that created the lands she now lives within. With compression being a key component to the printmaking process, other tools utilized also exemplify early formation of land. Brayers and brushes are used to move and "break" ink, before going to a steel press, to literally force the composition. This action can be likened to a slow moving glacier, changing the surface of terrain by slowly carving and creating texture while revealing nuance of color shift through exposed mineral deposits.

About this current series she states:
My work embraces the celebration of land and natural phenomena. Early life in Eastern Washington and current life in Oregon's High Desert, both with their spare, elegant landscapes and panoramic views directly inform my work as a printmaker. My palette and use of texture are inspired by daily walks through this amazing space. Rugged outcroppings, rimrock and seemingly empty lands hold subtle beauty on both intimate and expansive levels.

The repetition of these land forms causes me to imagine a musical fugue of sorts where rather than a short melody played by one instrument and then repeated by another as part of a larger orchestral piece, the High Desert provides endless repetition of elements. The resulting patterns are remarkable and often unimaginable.

The renditions of place presented in this exhibit are created by exploring stratification through the use of an etching press, multiple layers of inks and additional methods of mark making. The results are suggestions of the land and mood to which I am so connected.

Combining observation and memory are critical to her finished compositions. Beautiful and thoughtful rendition of space explore stratification of land with layers of sheer tonality. She skillfully weaves color to visually describe the deceivingly complex terrain of the high desert. Laughery invites the viewer to consider geological nuance, in all its subtle yet expansive beauty as well as atmosphere, always playing its role in the characterization of the unique and powerful region of Central Oregon.

Laughery has exhibited her work throughout the Northwest in both solo and group exhibitions. She has had her work juried into the prestigious Au Naturel: Nudes In the 21st Century hosted by Clatsop Community College, The Printmaker's Hand II, held at the Northwind Arts Center in Port Townsend, WA as well as the Around Oregon Annual at The Arts Center of Corvallis, OR. Laughery is also a founding member of the North Coast Printmakers' Collective.

---
September Exhibit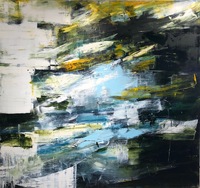 Darren Orange
Rise In A Wake

We are proud to present the work of Northwest artist Darren Orange with his second solo show at Imogen. Darren, who is known throughout the region for his bold and evocative style brings his latest collection, Rise In A Wake. His paintings encapsulate the raw power of the Pacific Northwest through abstract interpretations of landscape. Rise In A Wake opens during Astoria's Second Saturday Artwalk, September 14th with a reception from 5 – 8 pm. All are invited to attend and meet Darren who will be available to answer questions about his paintings and process. Food and drink will be available, generously provided by the Astoria Coffeehouse and Bistro. The exhibition will be available for viewing through October 8th.

Local favorite, Darren Orange brings a strong collection of abstract paintings inspired by the landscape he immerses himself in; the Lower Columbia region. Now fully settled into his new studio located on the south banks of the Columbia River, Darren gathers the calm of early morning sunrise to instill in his dramatic abstracted scenes. With the still gritty element that has been the pinnacle of his work for decades he depicts quieter moments, reflecting the raw power with dedicated stillness and wonder of the wilds that have carved this region. A continuation of intuitive mark making brings imagery that reflects the raw power and force of the Columbia River itself, becoming part dance and part meditative practice.

Darren Orange was raised in the agricultural region of Central Washington where vistas are vast and life is connected intimately to land, much like his adopted home of the lower Columbia region. He seeks places of authenticity where man is directly linked to terrain through farming, timber or fishing. These places have stories to tell, Darren strives to participate in that narrative through his painting. His direct and sometimes raw work conveys through abstracted landscape his own personal connection to place, but more importantly to those who came before, those who made their living through and from the land by fishing the river or felling trees. His work pays homage to independence and tenacity and the general spirit of the Northwest.

Within this new series, Darren brings paintings of all scale. His palette shifts from past work to a softer and gentler tone balancing sharp contrast to washes of color. Golden hues of autumnal light emerge from striation of elegant and watery blues that seem to dance across canvas. About his new body of work he states: "I continue to explore free association of intuitive mark making, or automatism. I stretch further from the literal reference and deeper into abstraction. Built suggestive imagery from layers of paint reveal the history of the painting process in smear, smudge, and line. In my attempt to make the work of painting fun by the act of play, the process of pigment manipulation, aesthetic chess, and exploration of mark making, carving-out composition has lead me to a quieter practice of activity in meditative focus."

Darren's work has been widely exhibited, reaching all four corners of the United States, including New York, Atlanta, Santa Fe, Portland as well as the Coos Art Museum in Coos Bay, Oregon. He has been presented awards from the Oregon Arts Commission, the Ford Family Foundation, and the Ucross Foundation Residency Fellowship. His work has been selected for exhibitions by Dominic Iocono of the Syracuse University Art Galleries, Michael Klein of the Microsoft Collection, Nat Trottman of the Guggenheim, Bonnie Laing Malcolmson of the Portland Art Museum, Margaret Bullock of the Tacoma Art Museum, and many others. Academic institutions such as Portland State University, Mt. Hood Community College, Peninsula College, Mt Hood Community College, and Lower Columbia College, Oregon Coast Council for the arts have awarded him with solo exhibitions. Darren has also been selected by the Oregon Arts Commission for the Art In The Governor's Office program, a prestigious recognition as an Oregon artist. His work will be hung in the reception area of the Governor's office for the month of December. His work can be found in private, public and corporate collections around the world.