September 2023 Exhibit
Darren Orange "Paracosm" and Justin L'Amie "In The Weeds"

September 9 – October 9, 2023

Artwalk and reception Saturday, September 9, 12 – 8 pm

We are excited to cap off the summer season with two powerhouse exhibitions opening during September's ArtWalk. In our new space we are pleased to be presenting the fourth solo exhibition for Darren Orange, "Paracosm", a new series of dynamic and explosive oil paintings. We are also proud to welcome the work of Justin L'Amie for his first solo exhibition at Imogen. L'Amie brings a new series of delightful watercolor and gouache paintings titled "In The Weeds". The two exhibitions open during Astoria's Second Saturday ArtWalk, September 9th 12 – 8 pm and remain on view through October 9th. Both artists will be in attendance from 5 – 8 pm that evening, please stop by to meet them and learn more about their work firsthand.

Darren Orange, known far and wide for his emotive oil paintings delves further into abstraction within his latest series "Paracosm". He continues with his bold and energetic style, employing movement synonymous with dance and filling our new exhibition space with powerful color and energy. His process always intertwined with finished composition demands the viewer to take note and participate in the echo left behind from its creation. Utilizing his past work as a springboard he without hesitation jumps head on into pure expression with dramatic color bursts, jolting all to full attention while beckoning for playful and joyous interaction.

Within this provocative series, he pushes the unseen boundaries of mark making as expression. About this exhibition he states: "A childhood dreamscape of imagination. A universe unlocked through creation. This body of work explores abstraction through the lens of altered perspective. The intention to achieve new insight in placement and composition. Inner mindscapes or landscape on its edge. An attempt to flip the script of my previous understanding of viewer painting relationship by leading the viewer inside of the painting." Through his painting, Orange moves beyond preconceived perception and takes a daring leap into the afterglow of sheer upbeat spontaneity, inviting all to come along for the ride. The shedding of past is apparent while looking directly to the unknown with exuberance and fearlessness.

Orange's work has been widely exhibited, reaching all four corners of the United States, including New York, Atlanta, Santa Fe, Portland as well as the Coos Bay Art Museum, Oregon. He has been presented awards from the Oregon Arts Commission, the Ford Family Foundation, and the Ucross Foundation Residency Fellowship. His work has been selected for exhibitions by Michael Klein of the Microsoft Collection, Nat Trottman of the Guggenheim, Bonnie Laing Malcomson formerly with the Portland Art Museum, Margaret Bullock of the Tacoma Art Museum, and many others. Academic institutions such as Portland State University, Peninsula College, Mt Hood Community College, Lower Columbia College, Oregon Coast Council for the Arts have all awarded him with solo exhibitions. He was also selected by the Oregon Arts Commission for the Art in The Governor's Office program, a prestigious recognition as an Oregon artist. His work can be found in private, public, and corporate collections around the world.

In our front gallery, we are proud to be presenting a solo exhibition for artist Justin L'Amie. Working primarily in watercolor he brings a new collection of delightful paintings portraying flora and fauna in whimsical and spontaneous composition. L'Amie who lives in Portland is from Astoria and began his art studies at Clatsop Community College before acquiring his BFA at Cornish College of Art. For his introduction to Imogen Gallery, L'Amie brings "In The Weeds", a refreshing and original take on still life painting, with vases overflowing with intricate pattern of life. His compositions focus on color and form, staging with structure his bouquets contain imaginative flowers hosting playful insects and fungi.

About this series L'Amie states: "In the weeds can have a couple different meanings. At once it can mean to be overwhelmed and lost, or completely focused and enamored with all the great details, and delighting in the world of the subject at hand. In an artistic pursuit sense of the phrase, it can mean that one is exploring with no end in sight or intention of coming to a conclusion. I find that all the meanings can be applied to the way I am working. I have been working in mostly watercolor for over fifteen years and I am only discovering that there is more and more to get lost in. I am gladly getting lost in it and there is no end in sight. Like a pig in slop as they say. I am happy out here." His work is imbued with that sense of "happy", encouraging the viewer to join in with a sense of mystical discovery from each impeccably painted moth or mushroom found within thoughtful and magical composition.

L'Amie who has been represented by PDX Contemporary Art since 2009 has had his work included to many prestigious private and corporate art collections as well as exhibiting at the annual Seattle Art Fair. He has been a recipient of the Career Opportunity Grant through the Oregon Arts Commission as well as being awarded a residency at the Morris Graves Foundation Retreat.


---
August 2023 Exhibit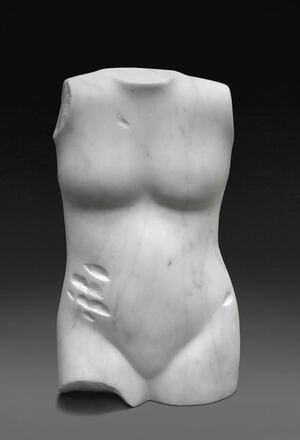 All Things Being Equal
M.J. Anderson

We are honored to welcome back the extraordinary sculpture of M.J. Anderson. She brings a new series of marble sculpture conveying the power and beauty of femininity. Her epic work in stone is a testimony to an ancient process of geological wonder, carefully coaxed into sublime form. Each piece brought to a sensual tactile surface, holds eons of history. M.J., who maintains two studios travels to Italy several times a year where she hand selects her stone from the great quarries of Carrara, Italy. From there much of the coveted stone is shipped back to Nehalem, Oregon where she chisels and polishes into finished sculpture. Known internationally for her female torsos, this exhibition will also include her coveted green onyx abstract sculpture. M.J. will be present and available to answer questions about her work and career from 5 – 8 pm during the artwalk. The exhibition will remain on view through September 4.
M.J. Anderson has cultivated a long and fascinating career, balancing a professional life that connects the Mediterranean to the Pacific Northwest. Her work exudes the romance and history of the Mediterranean while offering the allure and mystery of the rugged Pacific Northwest. Regarded as one of the Northwest's most important sculptors, for this exhibition she brings her iconic torsos in various marble types as well as abstract forms in green onyx.

Taking a nod from the masters and personalizing it, she focuses primarily on the female form in her work. She creates forms that might remind some of the sculpted marble falling somewhere between the Cycladic and Hellenistic periods, but exquisitely refining to define to her own definitive style. Hand selecting her marble, usually directly from the quarry, she has moderate control of what will occur once the chisel hits the surface. For M.J. the magic happens within the stone itself, revealing what some might refer to as flaws, she leaves the revealed rawness to become an integral part of the finished form. Having experienced profound loss in her life, Anderson utilizes her skills to portray woman as survivors, to serve as example of woman who have overcome adversity. The imperfections of surface become a living record of strife and struggle, becoming part of the overall beauty of form.

In the essay, "The Scars that Give a Stone its Soul: M.J. Anderson 's Ineffable Beauties" written by art critic, curator and author, Richard Speer, about a past exhibition held at Imogen Gallery, he states:

"Inhabiting a physical and psychological space midway between the Mediterranean Sea and Pacific Ocean—the conceit undergirding her To the Ends of the Earth exhibition at Imogen Gallery—has inevitably imparted an ambidexterity to Anderson's aesthetic orientation. She floats across paradigms. Although attuned to the figurative, biomorphic, and abstract work of 20th Century icons like Brancusi, Moore, and Noguchi, she has been more directly influenced by medieval altarpieces, Käthe Kollwitz, and Manuel Neri. These disparate influences, folded into her own lived experience, guided her to the lodestar of her own practice: a never-ceasing quest to capture the ineffable. Her finished sculptures testify to the ways in which an intuitive and restlessly inventive artist can part the veils that divide the material world from the metaphysical. The sculptures are exquisite objects d'art but also emblems, signifiers, and most enigmatically of all, presences."

Anderson, who began her career as a textile artist always held a love of stone and all things Italian. Her first visit to Italy was in 1974 and ten years later established her studio in Carrara. When discussing her choice of stone as vehicle of expression she says, "Marble was once alive. Marble was made from dying coral reefs and sea life billions of years ago. It was compressed and transformed by incredible heat, then lifted up into mountains by the forces of geology…some stones have smells, so when I'm sculpting, I'm handling and smelling something that once was alive." This sense of vitality carries over into her finished forms.

About this series she states, "The major theme running through my career is the female torso, the distillation of what it feels like to be woman. When I first began to carve stone, I realized I wanted to give voice to my gender. The torso, without the individual identity that inclusion of a head might create, provides an inclusivity that can apply to many. Women continue to get the short end of the stick in our society and all around the world --and my intention is to create strong and resilient images of women, women who do not have to "perform" for attention, but are enough in their own right, and their own mind. The medium of marble gives a timeless and enduring quality to the message. My abstract forms in onyx relate to my more spiritual and environmental concerns. When I work with onyx, it is like working with petrified water. I create sculptures which reference WATER: Oasis, Reservoir, Vessel, Holy Well.... hoping to highlight what we are at risk of losing. Many of my sculptures reflect on the interior life of our humanity, such as meditation, prayer, reflection.

Anderson has been exhibiting her work extensively throughout the Northwest and abroad since the mid 1990's. Her work is included to the permanent collection of the Portland Art Museum, Hallie Ford Museum, Salem, OR, Ceasar's Palace, Las Vegas and the Maroochydore Bushland Botanic Gardens & Noosa Botanic Gardens, QLD, Australia. She has been the recipient of a Pollack-Krasner Foundation Grant, a two-month Fellowship Award in Civita di Bagnoregio, Italy through the Northwest Institute of Architecture & Urban Studies in Italy, the recipient of a career grant through the Oregon Arts Commission and the Ford Family Foundation.

Anderson also gratefully acknowledges receiving funds this year from The Artist Relief fund, administered by the Oregon Arts Commission in partnership with Oregon Community Foundation and the James F. and Marion L. Miller Foundation. The program provides relief funding to Oregon artists who have experienced financial hardship during the COVID-19 pandemic.

---
July 2023 Exhibit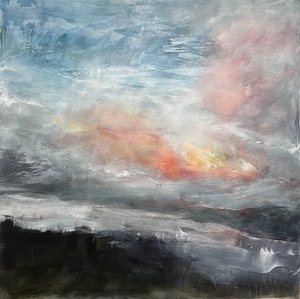 Everything In Between
New Paintings by Bethany Rowland

For July we are proud to be presenting a new series of paintings by Bethany Rowland who returns to Imogen Gallery for her sixth solo exhibition, Everything In Between. Known for her soulful paintings, she once again delivers a powerful collection utilizing landscape, birds of prey and other wildlife to depict the mystery of existence and all that entails. The exhibition opens during Astoria's Second Saturday Artwalk, Saturday July 8 from noon – 8 pm. Rowland will be at the gallery from 5 - 8 pm that evening and available to answer questions about her work. The exhibition will remain on view through August 7.

Since childhood, Rowland has looked to the natural world to find order. Her existential take on the world forges a path to understanding through her emotive paintings, etched in nuance of contemplation. This series includes some surprises as she maneuvers changes in her own life, like many of us navigating the terrain of a newly emerged world, rediscovering normalcy. Believing in the sacredness of mystery and that which defies definition she cultivated this series, Everything In Between. Her goals were to "capture the sense of the expansive state of possibility that exists between opposing or alternate sets of feelings – hope and despair, beauty and terror, sadness and joy. There are the problems of the day along with the grand enormities of everything. Somewhere in it all we might find a way to become better humans."

For many artists, landscape becomes muse. This holds true for Rowland who deems land and its inhabitants as spiritual guides. As a keen observer of nature she allowed this series to direct itself. She paints in a dreamlike manner allowing wildlife to emerge from background, coming forward as if to offer itself as shaman, providing comfort and strength. With subtle nuance of brush stroke she crafts composition lending to the mysticism of landscape and animals she honors. Within this series, Rowland allows herself to lean further into abstraction, defining space by intuition of what can't be held, only felt. About this series she writes with honesty about her intuitive process. "In creating a painting, I'm looking for some truth in the interplay of emotion, attention, memory, witnessing. The direction I think I'm heading is often not where I end up, and sometimes it feels like the subject (usually the coyote) is responsible. I feel a responsibility to try to make work that is 'worthy of our predicament' (Teju Cole) while trusting that my efforts don't need to be conscious to be of worth. It's true, what we see and experience is only a fragment of reality."

Rowland who has been painting for over 25 years handles her medium, style and subject matter with unabashed confidence, carefully cultivating imagery that is a beautiful and evocative marriage of representation and abstraction. Combining quiet corners of complex layers of sheer color with definitive mark and gesture, she conveys emotion; a hint of melancholy, comfort and acceptance within each composition. She readily sites such artists as Phil Sylvester of The Drawing Studio in Portland, OR as well as others including Andrea Schwartz-Feit, William Park and the late Royal Nebeker for giving her the courage to trust her own intuition in her practice. She understands form and allows herself freedom to explore the nuance of posture through the discipline of painting the human figure. Her figurative work has been juried into Clatsop Community College's annual Au Naturel: The Nude In The 21st Century, for multiple exhibitions throughout its history. Her work is regularly included to the annual Sitka Art Invitational as well as the juried annual Cascade Aids Project art auction.

---
June 2023 Exhibit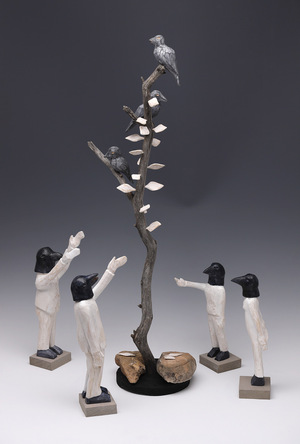 Stan Peterson
What the Ravens Saw
We are excited to welcome back Stan Peterson for his third solo exhibition at Imogen. He brings a new series of carved and painted wood sculpture, paintings, and photographs. This new series was directly inspired by his most recent artist residency in New Mexico where he spent time observing the areas ravens, framing this body of work. Join us for ArtWalk June 10, 5 – 8 pm and have a chat with Stan, he'll have many great stories to share about his work and experiences. The exhibition will be on display through July 3.

Stan Peterson is not one to incubate his creative ideas strictly within the 4 walls of his studio, instead he enjoys travel, attending (and teaching) workshops and artist residencies to direct his creative path. He gathers observations from daily walks that once back within his studio become 2 and 3 dimensional reflections of experiences and thought. His most recent residency took him to the famed Ghost Ranch where Georgia O'Keefe lived, worked, and wandered throughout the terrain. Peterson who walked the same hills as O'Keefe and the Navajo people who came before her, took in the power of the landscape and its vastness, imbued in spirituality. This and his time observing the areas ravens became the backbone of this series of sculpture and paintings.

Peterson, a self-taught artist has been exhibiting his narrative and figurative sculpture for nearly four decades, utilizing animal form as a vehicle to explore human interaction and connection. As a retired postal carrier, walking is something he has always enjoyed, whether it be the city streets or remote beaches; long sidewalks give way to stretches of beach where he can observe his feathered friends and where his source of inspiration begins. These elements give him the time and space for introspection of daily experience and random encounters that quite often become center stage in his finished work.

As an artist who delights in storytelling, Peterson has created yet another fantastical body of work still based on the figurative, whether it be a hybrid creature of his brilliant imagination or a more literal depiction of birds, horses or human figure, each piece always lends to story. While at Ghost Ranch, Peterson adopted the early morning practice of walking a labyrinth, always shared with the neighboring ravens who called to each other as he walked amongst them. Folklore extends deep within our shared histories of the great raven and for many native cultures the esteemed Corvus was a creature of metamorphosis, or trickster and/or shape shifter. Peterson embodies the spiritual side of these great ebony avians with totemic hand carved sculpture.

About this exhibition he states:
Ravens are powerful guides. So well known as intelligent communal beings who are assertive and clever. They have become prominent subjects on my journeys away from cities. Big skies and open spaces with soaring ravens. This exhibit groups ravens, horses, and hybrid figures with carved wood sculptures, small painted dioramas with carved figures, memory paintings of landscape on canvas, and photographs of onsite installations. Nature is an ever-changing backdrop and inspiration whether by the ocean shore or the high desert. Memories of time immersed informs the slow task of carving with hand tools.

Peterson has enjoyed a remarkable career as an artist, exhibiting his work from the west coast to as far away as New York and Paris with collectors in all points in between. He has been a featured artist on the much-loved OPB Art Beat program and written about in PDX Magazine. He has enjoyed several artist's residencies over the years including an award of an individual artist's grant from the William T. Colville Foundation to travel to Bali for "Arts in Bali" where he worked with a traditional Balinese mask carver.

---
April 2023 Exhibit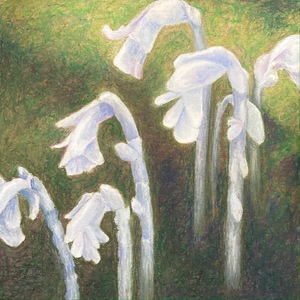 Kathleen Faulkner
The View from Here
April 8 – May 8
We are pleased to host a solo exhibition for Northwest artist Kathleen Faulkner, her first show at Imogen. Faulkner who works in oil and oil pastel brings a new series of paintings titled The View from Here, focusing on landscape of the coastal Pacific Northwest, depicting the quiet places that she lives within. The exhibition opens during Astoria's Artwalk, Saturday, April 8. Faulkner will be in attendance from 5 – 7 pm and available to answer questions about her work. The exhibition will remain on view through May 8th.

Kathleen Faulkner, a native to the Pacific Northwest calls Anacortes, Washington home. Living along the Salish Sea, her paintings are informed by her love of land and sea. She conveys a meditative sense within her work, a gentle and serene interpretation of coastal waterways and forests, while reflecting on past and future of these places and the sustainability of them. With a nod to history of the land, Faulkner brings soft edged skies meeting with sea that melts into shore. Her deft use of oil pastel as medium to convey mood, adds to the subtle layers of color as water reflects sky. Carefully developing background to foreground she builds a deceptively simple composition of a complex ecosystem of wetlands and forests. Both equally important to global health, as forests are considered the lungs of the planet while wetlands the kidneys, both crucial to our existence.

About this series Faulkner states: "My work is about the environment and how I view it. Life on earth is a lot different than when I was younger. Earth is paying the price for our over consumption. Other species, wild places and biospheres are declining. I keep track of what is here now in a small portion of a region called the Pacific Northwest. I miss the abundance of the past but try to live in the moment. It is less than it was but more than it may be in the future." With muted palette she conveys the delicate balance and symbiotic relationship between land, water and sky or our coastal rainforests, bringing both hope and awareness to reality.
Faulkner has exhibited her paintings, prints and jewelry primarily throughout the Northwest but extending around the globe when her work was included to a traveling exhibition throughout Europe as well as a permanent home in Kosova when her paintings were selected for the Art in Embassies program in 2022. She has exhibited in multiple museum exhibitions including an upcoming 20 woman exhibition planned for the early Spring of 2024 at the Museum of Northwest Art. The exhibition, "Silva Cascadia: The Forest is Female" explores the nuance of our forests and will also include the work of Imogen represented artist Laura Hamje.

Imogen Gallery is located at 240 11th Street, on the vibrant block shared with Cargo (now located across the street) and Astoria Coffeehouse & Bistro. Current business hours are Thursday thru Monday 11:00 to 5:00 and Sunday 11 – 4, closed Tuesday and Wednesday. For more information about Imogen Gallery or its represented artists please call 503.468.0620 or stop by in person to see what is new. Imogen Gallery can also be found on the internet via Facebook or at www.imogengallery.com .