Februrary 2021 Exhibit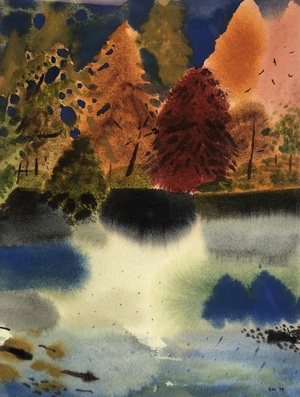 Rain
Paintings by George Wilson
We are excited to welcome back George Wilson, a painter of the ethereal. Wilson who comes from a generational fishing family in Scotland now resides in Portland. His love of water is ever present in soothing and dreamlike watercolor paintings and for this series Wilson continues in true fashion of a pluviophile, focusing on his love of rain. The exhibition Rain opens Saturday, February 13 from 12:00 – 7:00 pm and will remain on display through March 8.

For George Wilson, waterways are essential to life. Born into a fishing family in a small coastal Scottish village, he was brought up on and around Moray Firth, an inlet of the North Sea. Wilson's relationship to water has always been a part of his existence, as well as a source of livelihood. His work is infused with his experiences as a fisherman, the beauty of solitude and sometimes the ominous feel of heavy skies approaching. His profound connection has culminated in an enchanting series of paintings that serve as visual poetry to places he has known, reflecting shoreline and its ever changing edges as weather fronts work to shape and define.

For this series he brings serene atmospheric landscapes depicting the freshness of morning's first rain, the air crisp and clean as heavy clouds let go of their burden. The saturation of pigment on paper gently pools, emulating the look of a recent downpour over the river or on the surrounding hillsides. As a fisherman, Wilson's work is always framed by the importance of where land and sky meet. He shares with the viewer his love of landscape with dreamlike renditions of places that resonate with a deep and rooted sense of nostalgia. About this series he reflects, "I love to see the rain change the world around me. Rain approaches: Dark clouds slowly obscure the horizon, envelop the landscape, soften the outlines of the hills. Rain falls: A downpour hisses on the surface of the water, turns the pilings on the river into black, staccato notes within a symphony of grey. Rain subsides: Reveals slowly–shafts of sunlight, glistening jewel-like drops hang from low branches. I love the rain: The smirr, the smaa saft rain, the dreich, dark days, the deluge. And after the deluge, huge delight in a refreshed landscape and the sight of the receding storm. These studies of the rain calm my spirit and help me hold on to beauty as we live through this collective storm. May it soon pass."

Wilson who has painted as long as he's fished, eventually found himself entering the academic world with studies at Gray's School of Art, one of the United Kingdom's most prestigious art schools located in Aberdeen, Scotland. After graduating with a focus on painting and drawing, he found his way back to the sea where his time was shared between fishing trips and the studio. His work is a beautiful balance of both worlds with one love always merging with the other.

---
January 2021 Exhibit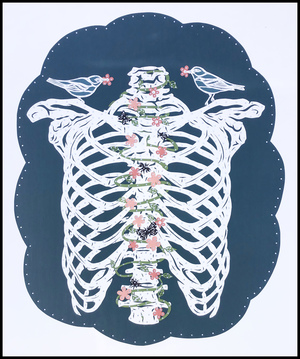 Metamorphosis

Kim Hamblin

Imogen Gallery is pleased to welcome back artist Kim Hamblin for a solo exhibition to kick off the highly anticipated New Year in which we are all looking for a sense of hope and better days. Hamblin has fully embraced that sense of optimism for her latest series. Drawing from her background in farming she brings a series of work inspired by elements important to the lifestyle, based from personal experiences that focus on the cycle of renewal and growth. Metamorphosis is a close look through metaphor on the perils of where we've come, towards the possibilities that are presented through optimism for a brighter future. The exhibition opens January 9th and will remain on display through February 9th.
Kim Hamblin of Sheridan, Oregon is a woman who wears many hats. Besides being known throughout the northwest for her intricate paper-cut assemblages, she is also a farmer, realtor, music festival organizer, winemaker and mom. Hamblin resides on a 50 acre farm called Roshambo ArtFarm, located in the Willamette Valley where she and her husband keep pastures for rescue sheep, alpacas & chickens, they also maintain apple, quince and pear orchards, ferment cider & wine and host (in non-pandemic) times an annual music festival, the Wildwood MusicFest. Her interests are vast but always connect in a meaningful way to her artistic endeavors.

Hamblin has spent years honing the ancient art from of paper cutting, a delicate and tedious practice that originated in 6th century China. Regarded as an art form that requires careful forethought and concentration, Hamblin considers it therapeutic, utilizing the practice as focus and relaxation from her busy life style.

Specific to her artwork, inspiration is gleaned from her lifelong love of the sciences; particularly anatomy, botany, biology, entomology and zoology. The focal point of her work is not merely subject matter and imagery, process also becomes quintessential to each finished piece. Hamblin's use and application of materials goes beyond traditional paper cut assemblage. By adding painted surface and nails to further enhance tessellation and texture, Hamblin adds an industrial nature to the delicateness of pattern revealed in each paper cut. The juxtaposition between paper and steel make for a unique and striking finished composition. Within this series she brings in more color to her usually limited palette, with rich and saturated corals, pinks and golden tones. An overall warmth points to signs of spring, a time of renewal.

About this series Hamblin states, "Metamorphosis: a change of the form or nature of a thing or person into a completely different one, by natural or supernatural means. It seems our country, and our world, have been teetering on the edge of chaos and transformation. With disease, climate destruction and nationalism on the rise, many of us are succumbing to the hopelessness and darkness or this world, but it doesn't have to be this way. Art is a tool I utilize to remind myself of the beauty of the world; this series is a way for me to embrace the light, beauty and love of our earth and fellow inhabitants. The beauty of the biotic world of flora and fauna is what brings me hope for the future, the seeds and hatches in the spring, the flowers and butterflies in the summer, the plants going to seed in the fall, and the quiet solitude of winter. Metamorphosis applies to the natural world as well as the human-made one, we can choose to change and transform into something more beautiful; I hope that we do."

---
December 2020 Exhibit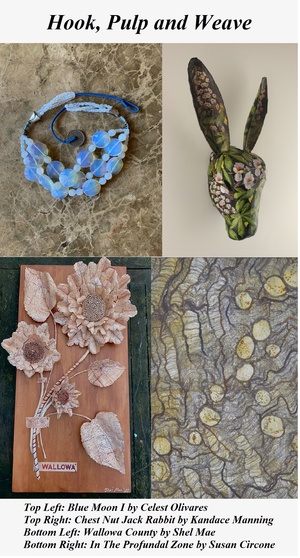 Hook, Pulp and Weave

An Exploration of Fiber as Medium

Celebrate the holidays with Imogen as we host a rich and diverse invitational exhibition exploring fiber. Functional and non-functional work will be included in this unique exhibition of textile based arts. Color, texture and composition form the backbone of this diverse collection including a new selection of artist-made paper lights by Lâm Quãng and Kestrel Gates of HiiH Lights, wall hung mixed fiber art pieces by Susan Circone, hand dyed silk scarves and wraps from Iris Sullivan Daire, and paper collage flora and fauna masks by Kandace Manning are just a few of the exquisite and whimsical examples of fiber in art. This exhibition is curated with the gift giving season in mind and will be on view December 12 – January 4.

Fiber based art has a long running history, with weaving techniques dating back to Neolithic times some 12,000 years ago. It is respected as one of the oldest surviving craft forms in the world that evolved from multiple cultures, including the Incans who utilized textiles as currency, which held a more prominent role then gold for trade. Native Americans, for centuries have created elaborate basketry for all uses, including vessels that were water tight, made from regionally known plant materials. Middle Eastern nomadic tribes, have been respected for intricate hand knotted rugs made of wool and silk, dating back over 4000 years, and the rich illustrative tapestries of the 14th and 15th centuries of European cultures, all helped to forge what we appreciate as textile based art today. The term "fiber arts" came to be applied much later; post World War II with the insurgence of the craft movement. With this came the recognition of craft as fine art and the diminished idea of utilitarian needs.

Hook, Pulp and Weave is a collection of just a few examples of what textile or fiber arts has evolved into. With the lessening of the importance of function, and the consideration of pure artistic concept being delivered through the fiber medium, artists have found a new voice to explore ancient arts, utilizing texture, color and form. While much of the work included to this exhibition is functional, many pieces are based strictly on principle of art form, utilizing fiber to create compelling and complex pieces.

Susan Circone of Portland, brings intricate wall hung abstract compositions focusing on brilliant use of texture, pattern and nuance of color. Coming from a former career in geological sciences, her compositions are inspired by nature. About her work she states:

"Working primarily in textiles, I explore the minutiae of the physical and natural world. I find inspiration in the structures, textures, and forms observed in both organic and inorganic matter. The importance of the mundane and the microscopic, ignored, unseen, and often ephemeral, is a reminder of our temporal existence.

My process employs hand stitching for both mark-making and construction, binding together layers of textile-based elements with simple, repetitive stitches. The construct often unfolds within the spatial framework of a grid. The labor-intensive process and the evidence of the hand, with its intrinsic variability, are fundamental aspects of the created object."

Julie Kern Smith also of Portland, returns with her rich and sophisticated wraps made of nuno felted wool and repurposed silk, from vintage scarves and kimonos. Her choice of materials are exquisitely brought together through fusion of fiber, creating rich and tactile wearable art forms.

We are also excited to include the work of two new artists to Imogen, both working in paper. Shel Mae comes from a career of businesses that focused on repurposed materials including work with women's cooperatives around the world who utilized cast offs such as rubber tires, plastic bags and other found items to give a second life to through craft. With this in mind she collects and elevates vintage maps and sheet music into art pieces. Through intricate folds and bends she constructs wall hung sculpture of native plants of Oregon. Her work was recently featured in the September/October issue of 1859 Oregon Magazine.

We also welcome Kandace Manning who brings her Flora and Fauna Series hand built paper collage masks. Building up intricate layers of vintage botanical paper she creates stunning spirit masks of animalia. About her work she states:

"We have increasingly alienated ourselves from the animal kingdom, dominating it rather than coexisting. Similarly, most of us are rarely immersed in wild vegetation and the forested environment, separated from its revitalizing properties. I create animal masks covered in botanical collage to suggest that we return to a mentality that sees ourselves as part of the natural world. These masks are intended to encourage a return to a more harmonious coexistence with the flora and fauna around us."

If you are looking to support local artists this year for your holiday gift giving, Astoria represents. We are excited to include a diverse array of fiber based work by local artists, Lâm Quãng and Kestrel Gates of HiiH Lights, Iris Sullivan Daire, Kathy Karbo and Celeste Olivares. Husband and wife team Lâm Quãng and Kestrel Gates of HiiH Lights, bring new sculptural lighting and jewelry. Their work is an elegant fusion of purposeful and sculptural, created from their own handmade paper and enhanced with natural pigments. Fiber artist, Iris Sullivan Daire of Astoria includes her plant based hand dyed botanical silk scarves, and wall pieces, she is known near and far as a master of natural dying techniques. This year she brings wraps inspired by ancient Celtic rock carvings as well as a collection of wall hung mythical birds created with her own dyes. Celeste Olivares brings a new collection of her intricate needle woven beaded necklaces and earrings. Each piece is an exotic one of a kind design utilizing semi-precious stones, vintage glass and crystal along with found objects. She carefully combines brilliant color and form with an end result of timeless and original jewelry pieces. Kathy Karbo returns with her hand cut paper installation work, this year she brings a collection of papercut vegetables she calls the Unity Garden, reflecting on the days of victory gardens and communities coming together in support of each during challenging times. Hook, Pulp and Weave is an eclectic, tactile and exciting blend of fiber forms that all will enjoy.

---
November 2020 Exhibit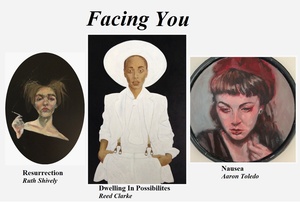 Facing You

An Exploration of Portraiture

Imogen is pleased to be presenting the sixth annual invitational exhibition exploring humanity through portraiture. This year's exhibition will include the sublime paintings of Reed Clarke, Ruth Shively and introducing local artist Aaron Toledo, all exploring the essence of humanity. This evocative collection moves beyond a surface glance of an individual, inviting the viewer a step closer and to consider the underlying. Perhaps even to see ourselves through the eyes of others, and what it means to be a part of mankind. Each portrait tells a story; we invite you to participate. The exhibition opens Saturday November 14th, 12:00 – 8:00 pm and will be on view thru December 7th. The gallery is currently open Thursday – Monday, 12 – 5 pm and Sunday 12 – 4 pm. We are also available by appointment for private viewing.

Many artists at some point in their career have placed focus on the human form as subject matter, for some it's a practice of study, for others it's a means to participate with humanity on a more intimate level. Artists Reed Clarke, Ruth Shively and Aaron Toledo fall into that category. Portraiture becomes a vehicle utilized to explore deeper reflection of who we are, what we convey without speaking, simply by stance, expression or direction of gaze. These artists, all incredibly skilled with chosen medium bring suggestion of story and history through portrayal of individuals.

Reed Clarke of Portland, Oregon has dedicated much of his career as a fine artist painting others. Known for his skill as a painter and printmaker, he has had his work juried into Clatsop Community College's prestigious Au Naturel: Nudes in the 21st Century exhibition several years running, receiving a first prize award as well as a purchase award from CCC. He has exhibited his work throughout Portland including a show at the White Gallery of Portland State University. For Imogen's sixth exhibition Facing You, he brings yet another strong collection of work, inviting the viewer to perhaps create their own story. His skill is apparent in the nuance of palette to create mood and emotion through an intimate look and consideration into another's experience, perhaps with a goal of fostering greater understanding and acceptance of who we are. About this series he states:

"Faces and figures inhabit all my paintings and when I try to stray from this subject something I can't resist always calls me back. In my work I hope to elicit a statement about being human that is familiar, and also seems impossible to say as clearly or completely in other mediums. Many of my paintings exhibited in this show are specific people: a writer, a weaver, a poet, a child soldier, etc. and I hope to have imparted some degree of a palpable and potent humanity in these paintings. The idea of restricting myself to a human subject and the discipline that presenting such a subject imposes on the composition is something I value. When possible I seek to emphasize the geometric shapes formed by different part of the composition and bring out the abstract surface rhythms of the composition. Ultimately however, I'm striving for a balance between recording a human subject that is compelling and creating a paint surface on the canvas that engages and rewards the viewer."

We also welcome back Ruth Shively a Portland based artist. Shively who focuses her figurative work on portrayal of women, brings an essence of quiet resilience and an innate sense of strength and beauty. About her work she states: "I work largely with the figure, concentrating on women. In awe of the strength women behold, I feel the need to express their character through my work. I can't explain how I choose my subjects, I go with my instinct and immediate feelings and drawn to stark, positive/negative space. I like humor, mysteriousness and intimate mood, wanting the viewer to make their own interpretation. I studied drawing and illustration in school but I'm a self-taught painter and prefer this medium as I love the spontaneity of the paint and using color to create space." Shively, who grew up in the Midwest has lived in Paris, New York City, Minneapolis and now Portland. She has exhibited her work in numerous group and solo exhibitions that have taken her from Los Angeles to New York and many venues in between.

This year we are excited to include the work of Astoria based painter and tattoo artist Aaron Toledo. Toledo who relocated to Astoria in 1999 from Kansas City owns and operates Keepsake Tattoo, our neighbors here on 11th Street. His small scale and intimate oil paintings explore the relationship between people and the space they occupy, "zooming in on moments as if they are memories, exploiting the perceptions that energize these small captures of time." As a nonacademic artist his education and career in art has been far from traditional. About his work he states, "My work is inspired by the often overlooked and singularly unimportant candid moments, the spaces we live, our most boring days, the far reaches of the earth, bad storytelling and good mistakes." With a muted palette and limited brushstroke he brings moody and gestural imprint, or glimpses into people's personal world; a direct look at reality of moment and fleeting honesty of contemplation.

All three artists share a commonality of commitment and dedication to the marginalized within their work. Each brings beauty, vulnerability and rawness, elements that live within all of us. The power of the individual shines bright through compassion for humanity. Facing you, we invite you to step inside.

---
October 2020 Exhibit
April Coppini & Molly Schulps
Everything is Possible/Nothing is Possible
Back by popular demand are the gorgeous charcoal (and sometimes pastel) drawings of April Coppini. We have invited April to come back for another exhibition, this time sharing the stage with ceramic artist Molly Schulps. Schulps a recent addition to Imogen brings a new collection of ceramic sculpture and vessels. She splits her time between her studio here in Astoria as well as in Los Angeles where she is director to the Cypress College's ceramic department. Coppini and Schulps both share a common passion for environmental issues, specifically relating to wildlife preservation. As Coppini utilizes paper for her support of dramatic imagery, Schulps turns to her wheel thrown and hand built clay pieces as backbone to her love of drawing and playful use of color. Known for her bigger than life charcoal drawings of bees, Coppini brings a new series of elegant drawings showcasing her exquisite skills of breathing life into two dimensional work. We are excited to be presenting these two incredibly talented artists together. The exhibition will be on view October 10 – November 10 and opens Saturday, October 10. . The gallery is currently open Thursday – Monday, 12 – 5 pm and Sunday 12 – 4 pm. We are also available by appointment for private viewing.

Coppini, known for her passionate interest in all creatures and their importance to place, brings a series of gorgeously rendered charcoal drawings. She portrays a focused record in her subject matter depicting the wild and unseen side of animalia. A slight tension of muscle before a possible leap, or the look of pensive awareness in preparation for escape from a possible predator, are all elegantly conveyed through beautiful and gestural mark making. With the underlying message of the importance of all creatures and their independent role to ecosystem and/or as pollinators, predators, scavengers or even domesticated animals, Coppini asks the viewer to consider the role our species takes (or doesn't) as caretaker's to the delicate relationship between mankind and animal as well as a direct reminder of our symbiotic relationship to all life on a global level. About this specific series she states:
Everything is Possible/ Nothing is Possible. There is not a better way to describe this feeling I wake up to every day of this past six months of pandemic/ quarantine and social & political crisis. It's chaos. Its upheaval. It's shock and grieving. It's a humbling and an anxiety producing re-learning of basic functions. And it's a blank slate. It's invitation to change. It's an opening for a hero to step-in and then the realization that the hero has to be you.
My entire existence as a mother I have been an artist. I am grateful for the flexibility it's offered and for the time with my kids. Even while grieving the loss of their father and being full-on, full-time.
And it's always been a struggle, but right now it's a struggle in the same space and time, always. I wake up thinking, "I'll draw before the kids wake up!" and then someone wakes up early and I think, "ok, later…", but there is a constant stream of things to do and decide about and take care of… and I put them to bed at night and think "...after they go to bed!" and then I promptly fall asleep next to them. Or all I can do is sit and look at my work, energy spent. "Nothing is possible".
Mostly, drawing that happens does so when I catch a wave of "Everything is possible!" in the midst of all the household chaos. Moments stolen away when I am not directly needed for something or feeling so oppressed by the realities of the outside world. Or when I am and it has to be let out somehow... holding both; "everything is possible" and "nothing is possible" at the same time. Torn, under pressure, full of possibilities. Just like all of us.

Coppini tends to focus primarily on charcoal for her chosen medium because of "its immediacy and forgiving nature". For her, the starkness of black on white strikes a basic and guttural cord. Within this series however she brings in rich use of color, pure blocks as background which aid in defining emotive qualities or even echo elements of subject matter while still allowing for the dominant line of charcoal do its work. The stark juxtaposition lends to the overall power and drama conveyed in each piece.

Like Coppini, Schulps takes great inspiration for her love of the natural world and conveys her own message of the raw power and beauty through her use of form, color and content. Her sense of playfulness is included to each piece, many times including iconic and sometimes folkloric imagery that many of us grew up with. It's not uncommon for Schulps to include Smoky the Bear and Paul Bunyan to the surface work of her colorful vessels that transcend to a lightheartedness and gentle reminder of the fragility of our world and our delicate ecosystems that are battling out coexistence with mankind. About this series of work she states:
The Pacific Northwest could not be a more enchanting place to be. The beauty is awe inspiring and has had a deep impact on my work. Although, my heart is heavy with worry about the environment and all of the inhabitants. As an artist I feel the responsibility to make work that explores these concerns. I use imagery that relates to the area, so for this particular exhibition it was animals and fauna that are on the endangered species list in the PNW. I also use nostalgic references and familiar symbolism to allow for the viewer to form a sense of relatability to my work. This current body of work has both vessels and sculpture, which are the vehicles for the visual narratives and symbols. It is my hope that we become better stewards for the land and inhabitants.

Schulps, who was born and raised in Southern California recently took up residence in Astoria. As stated the area has been a rich resource for her personally in the development of her work. Her love of drawing is evident in every piece she creates, etching line into clay as well as building elaborate composition through glazing. The entire surface of each sculpture and vessel she creates explode with vibrancy of life. Her hand built and wheel thrown pieces of all scale act as her canvases for ideas of well thought out and sometimes narrative story telling. Every turn of each piece reveals delightful imagery of flora and fauna that playfully cover all surface.

Schulps, whose father was a well renowned studio potter grew up under his tutelage and then later earning her MFA with distinction from California State University. Schulps is now a highly respected instructor herself. Her work readily illustrates great skill and understanding of her chosen medium with elaborate glazing techniques, resulting in contemplative narration of ideas and concepts. Her work has been exhibited around the country and is included to the permanent collection of the American Museum of Ceramic Art.