April and May 2021 Exhibit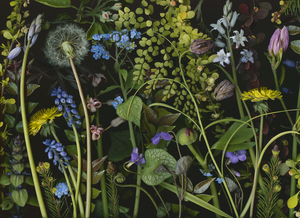 More Garden Studies
Deb Stoner

Imogen Gallery is honored to host a second solo exhibition for Portland artist Deb Stoner and her meticulous still life compositions. Join us for a socially distanced Second Saturday Artwalk, April 10th 12:00 – 7:00 pm to view More Garden Studies. Stoner, an accomplished photographer brings a new series of archival pigment prints, focusing on her love of gardening and the Dutch masters of still life painting. The exhibition will be on view through June 7th.

We welcome spring with a sense of optimism and renewal this year, perhaps more than ever. And with the entrance of spring we are also excited to welcome back Deb Stoner who brings the garden to us through her lush and spectacular photographic work. Stoner combines her skills as photographer, researcher and gardener along with meticulous sense of detail to create dramatic still life imagery. Reminiscent of the still life painters of the 16th and 17th centuries, she weaves a complex maze of texture and color within each composition. With a strong background in craft as a jeweler, scale and precision are always at the forefront of her work today. Her fine art prints are the culmination of a passion for growing plants, collecting insects, and choreographing the still life image.

More Garden Studies, a continuation of Stoner's garden series, she showcases her love of botanicals with large format prints that allow the viewer to immerse themselves in details not normally seen without careful scrutiny. With some images printed as large as 40" x 60", insects larger than life reveal themselves within her compositions, looking at home in their artist made world. Incredible detail in a vast array of plant varieties included to each print, Stoner's work is easily a horticulturist's dream come true. She carefully cultivates each detail of her compositions with the delicate nuance of curl on a petal, or the subtle shift of hue within a blossoming rose. The juxtaposition of the leather like skin of a pomegranate to the matte, velvety surface on the spring growth of fiddle head fern, all provide the allure of indescribable texture and dimension that leaps from the flat surface of rag paper, each image is printed to.
Stoner is an artist who is constantly challenging herself to create and reveal the unexpected. Her photographic process is not the atypical point and shoot format with a hand held camera and lens doing the work, instead she creates each high resolution imagery on her scanner, literally building her compositions on the scanner bed to capture as much detail as possible.
About her work she states:

When I make a still life composition, my sole intention is to make a beautiful photograph. My method involves the wow of showing details of flora and tiny fauna, in formal compositions, using the secret weapons of large scale, high resolution, and fantastic color, or in the case of my black and white work, excellent tonal range, to ensure that the viewer stops in her tracks. Years ago, attempting to make digital negatives for wet plate collodion work, I learned to use a scanner, and almost at once, my interest in photography took another of many shifts, this time to working within the limitations of size, lighting and gravity that substituting a scanner for a camera requires. I gather flowers, mount insects to play tiny actors, and arrange them on the horizontal surface of the scanner, like a reverse painting on glass, upside down and backwards. When seen as a full-scale piece, of up to 48"x68", my work brings the viewer a view of a world that is composed of natural objects that seem almost imaginary. My compositions are informed by life-long study of art history, but unlike the work of still life Dutch Masters or French floral painters, there are no secrets to be revealed by a knowledge of symbols I might use, no skulls or stopped clocks, no embedded messages that reveal my inner most psyche. Insects, beetles, and bees are there because they're beautiful, messy, and rather exciting.

Deb Stoner holds an MFA in Applied Design from SDSU, a BS in Geology from UC Davis, and a decades long teaching career at the former Oregon College of Art and Craft. Recently she presented lectures on photography to the Yuma Symposium, the Portland Art Museum, and the SPE NW Regional Conference. She has also had solo shows in 2017, 2016 and 2015, as well as numerous group and solo exhibitions. Her work was also selected from an international call for artists in 2019 to do a building wrap of the Palos Verdes Art Center in Los Angeles. Her botanical work enshrined the art center throughout 2020. Stoner has juried purchases in the permanent public art collections at University of Oregon, OHSU, PCC, and Portland International Airport; is the recipient of grants and a recent residency, and sells work to enthusiastic collectors around the world.

---
March 2021 Exhibit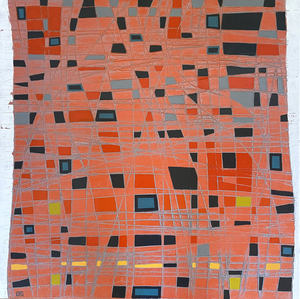 Twists & Turns / Making Our Maps

Paintings by Jody Katopothis

We are pleased to be welcoming back the sublime work of artist Jody Katopothis who brings a new collection of acrylic paintings. Through exquisitely subtle use of color and texture, she brings forth layers of history, excavating surface to build a story of life. Over time civilizations have evolved, leaving traces of history through culture or physical relic, much like the path or trajectory of one's own life. Through painting she creates a narrative tapestry of the twists and turns of life. Culture, past and future are reflected while navigating unforeseen changes of course that become etched in memory, shaping our vision of self. The exhibition will be on display through April 5th.

Within this series of paintings, Katopothis builds muted shrouds of color as overlay to subtle nuance of past history, creating luminescent narrations. She looks to nature's organic beauty and the occupation and organization of nature by our human relationships to the environment, to illustrate an "archaeology" of the human experience. When considering the content of this series, Katopothis reflected on the challenges of life itself. During this time when the entire global population has experienced a changed perception of life, through painting she considers the process of growth while moving through the trials and tribulations beyond one's control. This series brings reflection from where we've come as a society to marking the path of time marching forward.

About this series she states: "Other than the measuring of time by minutes and hours, and of our days on the calendar, our lives do not move in a linear fashion. The path is made up of many twists and turns. One step up and two steps back. The expected and the unexpected. Cycles repeating, ups and downs. The dance moves to and fro. This plays out not just within a single life, but in the whole human experience throughout time. There is an unpredictable meandering that shapes the course. We can see evidence of this through ancient civilizations who lived and created with knowledge and tools we still don't fully understand. Progress, skills, insights, mastery, developing and then disappearing over millennia. How do we make sense of this unpredictable trajectory in our own lives? How do we weave it all together, to create a more clear and consistent picture? Opportunity comes with moments that stick, leaving their indelible marks on us, and then turning to memories for safekeeping. With this process, we create an inner roadmap of our lives. Made up of these uniquely personal anchors, we bind ourselves to them, so that we might feel safer in the unpredictable movements. So we can hold on. The main body of work in this exhibition, is inspired by such memories, those anchors that help keep us from feeling lost at sea, even as they allow us room to ride out the storms, or rock and sway upon peaceful waters."

Jody Katopothis has always been an artist who follows her passions. Being successful in dual careers, as painter and musician, she finds one nurtures the other, and like her paintings become a woven metaphor dedicated to a connection to the human spirit. Her own exploration of both music and visual art have taken her far, including several years living abroad and studies in Europe, primarily in Wales. She has exhibited her work internationally resulting in awards, such as First Place for "Best Work in all Shows" at the Fishguard Arts Festival, UK and an Award of Excellence from Contemporary Abstracts at the Alameda Art Center in California. She has also been featured on OPB's ArtBeat program, her paintings have been selected twice for use as wine labels to Paro Wines of Sonoma, as well as being published in Sunset Magazine.

---
Februrary 2021 Exhibit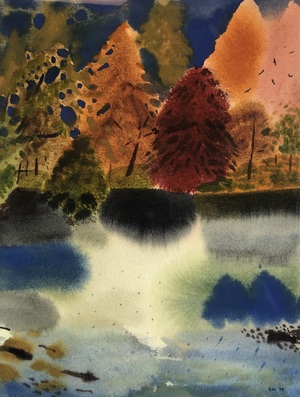 Rain
Paintings by George Wilson
We are excited to welcome back George Wilson, a painter of the ethereal. Wilson who comes from a generational fishing family in Scotland now resides in Portland. His love of water is ever present in soothing and dreamlike watercolor paintings and for this series Wilson continues in true fashion of a pluviophile, focusing on his love of rain. The exhibition Rain opens Saturday, February 13 from 12:00 – 7:00 pm and will remain on display through March 8.

For George Wilson, waterways are essential to life. Born into a fishing family in a small coastal Scottish village, he was brought up on and around Moray Firth, an inlet of the North Sea. Wilson's relationship to water has always been a part of his existence, as well as a source of livelihood. His work is infused with his experiences as a fisherman, the beauty of solitude and sometimes the ominous feel of heavy skies approaching. His profound connection has culminated in an enchanting series of paintings that serve as visual poetry to places he has known, reflecting shoreline and its ever changing edges as weather fronts work to shape and define.

For this series he brings serene atmospheric landscapes depicting the freshness of morning's first rain, the air crisp and clean as heavy clouds let go of their burden. The saturation of pigment on paper gently pools, emulating the look of a recent downpour over the river or on the surrounding hillsides. As a fisherman, Wilson's work is always framed by the importance of where land and sky meet. He shares with the viewer his love of landscape with dreamlike renditions of places that resonate with a deep and rooted sense of nostalgia. About this series he reflects, "I love to see the rain change the world around me. Rain approaches: Dark clouds slowly obscure the horizon, envelop the landscape, soften the outlines of the hills. Rain falls: A downpour hisses on the surface of the water, turns the pilings on the river into black, staccato notes within a symphony of grey. Rain subsides: Reveals slowly–shafts of sunlight, glistening jewel-like drops hang from low branches. I love the rain: The smirr, the smaa saft rain, the dreich, dark days, the deluge. And after the deluge, huge delight in a refreshed landscape and the sight of the receding storm. These studies of the rain calm my spirit and help me hold on to beauty as we live through this collective storm. May it soon pass."

Wilson who has painted as long as he's fished, eventually found himself entering the academic world with studies at Gray's School of Art, one of the United Kingdom's most prestigious art schools located in Aberdeen, Scotland. After graduating with a focus on painting and drawing, he found his way back to the sea where his time was shared between fishing trips and the studio. His work is a beautiful balance of both worlds with one love always merging with the other.

---
January 2021 Exhibit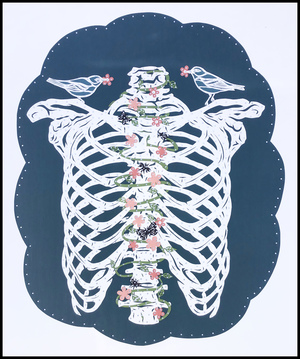 Metamorphosis

Kim Hamblin

Imogen Gallery is pleased to welcome back artist Kim Hamblin for a solo exhibition to kick off the highly anticipated New Year in which we are all looking for a sense of hope and better days. Hamblin has fully embraced that sense of optimism for her latest series. Drawing from her background in farming she brings a series of work inspired by elements important to the lifestyle, based from personal experiences that focus on the cycle of renewal and growth. Metamorphosis is a close look through metaphor on the perils of where we've come, towards the possibilities that are presented through optimism for a brighter future. The exhibition opens January 9th and will remain on display through February 9th.
Kim Hamblin of Sheridan, Oregon is a woman who wears many hats. Besides being known throughout the northwest for her intricate paper-cut assemblages, she is also a farmer, realtor, music festival organizer, winemaker and mom. Hamblin resides on a 50 acre farm called Roshambo ArtFarm, located in the Willamette Valley where she and her husband keep pastures for rescue sheep, alpacas & chickens, they also maintain apple, quince and pear orchards, ferment cider & wine and host (in non-pandemic) times an annual music festival, the Wildwood MusicFest. Her interests are vast but always connect in a meaningful way to her artistic endeavors.

Hamblin has spent years honing the ancient art from of paper cutting, a delicate and tedious practice that originated in 6th century China. Regarded as an art form that requires careful forethought and concentration, Hamblin considers it therapeutic, utilizing the practice as focus and relaxation from her busy life style.

Specific to her artwork, inspiration is gleaned from her lifelong love of the sciences; particularly anatomy, botany, biology, entomology and zoology. The focal point of her work is not merely subject matter and imagery, process also becomes quintessential to each finished piece. Hamblin's use and application of materials goes beyond traditional paper cut assemblage. By adding painted surface and nails to further enhance tessellation and texture, Hamblin adds an industrial nature to the delicateness of pattern revealed in each paper cut. The juxtaposition between paper and steel make for a unique and striking finished composition. Within this series she brings in more color to her usually limited palette, with rich and saturated corals, pinks and golden tones. An overall warmth points to signs of spring, a time of renewal.

About this series Hamblin states, "Metamorphosis: a change of the form or nature of a thing or person into a completely different one, by natural or supernatural means. It seems our country, and our world, have been teetering on the edge of chaos and transformation. With disease, climate destruction and nationalism on the rise, many of us are succumbing to the hopelessness and darkness or this world, but it doesn't have to be this way. Art is a tool I utilize to remind myself of the beauty of the world; this series is a way for me to embrace the light, beauty and love of our earth and fellow inhabitants. The beauty of the biotic world of flora and fauna is what brings me hope for the future, the seeds and hatches in the spring, the flowers and butterflies in the summer, the plants going to seed in the fall, and the quiet solitude of winter. Metamorphosis applies to the natural world as well as the human-made one, we can choose to change and transform into something more beautiful; I hope that we do."

---
December 2020 Exhibit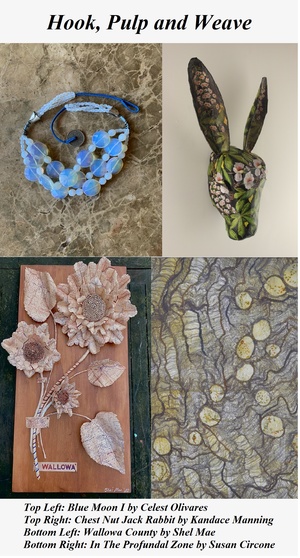 Hook, Pulp and Weave

An Exploration of Fiber as Medium

Celebrate the holidays with Imogen as we host a rich and diverse invitational exhibition exploring fiber. Functional and non-functional work will be included in this unique exhibition of textile based arts. Color, texture and composition form the backbone of this diverse collection including a new selection of artist-made paper lights by Lâm Quãng and Kestrel Gates of HiiH Lights, wall hung mixed fiber art pieces by Susan Circone, hand dyed silk scarves and wraps from Iris Sullivan Daire, and paper collage flora and fauna masks by Kandace Manning are just a few of the exquisite and whimsical examples of fiber in art. This exhibition is curated with the gift giving season in mind and will be on view December 12 – January 4.

Fiber based art has a long running history, with weaving techniques dating back to Neolithic times some 12,000 years ago. It is respected as one of the oldest surviving craft forms in the world that evolved from multiple cultures, including the Incans who utilized textiles as currency, which held a more prominent role then gold for trade. Native Americans, for centuries have created elaborate basketry for all uses, including vessels that were water tight, made from regionally known plant materials. Middle Eastern nomadic tribes, have been respected for intricate hand knotted rugs made of wool and silk, dating back over 4000 years, and the rich illustrative tapestries of the 14th and 15th centuries of European cultures, all helped to forge what we appreciate as textile based art today. The term "fiber arts" came to be applied much later; post World War II with the insurgence of the craft movement. With this came the recognition of craft as fine art and the diminished idea of utilitarian needs.

Hook, Pulp and Weave is a collection of just a few examples of what textile or fiber arts has evolved into. With the lessening of the importance of function, and the consideration of pure artistic concept being delivered through the fiber medium, artists have found a new voice to explore ancient arts, utilizing texture, color and form. While much of the work included to this exhibition is functional, many pieces are based strictly on principle of art form, utilizing fiber to create compelling and complex pieces.

Susan Circone of Portland, brings intricate wall hung abstract compositions focusing on brilliant use of texture, pattern and nuance of color. Coming from a former career in geological sciences, her compositions are inspired by nature. About her work she states:

"Working primarily in textiles, I explore the minutiae of the physical and natural world. I find inspiration in the structures, textures, and forms observed in both organic and inorganic matter. The importance of the mundane and the microscopic, ignored, unseen, and often ephemeral, is a reminder of our temporal existence.

My process employs hand stitching for both mark-making and construction, binding together layers of textile-based elements with simple, repetitive stitches. The construct often unfolds within the spatial framework of a grid. The labor-intensive process and the evidence of the hand, with its intrinsic variability, are fundamental aspects of the created object."

Julie Kern Smith also of Portland, returns with her rich and sophisticated wraps made of nuno felted wool and repurposed silk, from vintage scarves and kimonos. Her choice of materials are exquisitely brought together through fusion of fiber, creating rich and tactile wearable art forms.

We are also excited to include the work of two new artists to Imogen, both working in paper. Shel Mae comes from a career of businesses that focused on repurposed materials including work with women's cooperatives around the world who utilized cast offs such as rubber tires, plastic bags and other found items to give a second life to through craft. With this in mind she collects and elevates vintage maps and sheet music into art pieces. Through intricate folds and bends she constructs wall hung sculpture of native plants of Oregon. Her work was recently featured in the September/October issue of 1859 Oregon Magazine.

We also welcome Kandace Manning who brings her Flora and Fauna Series hand built paper collage masks. Building up intricate layers of vintage botanical paper she creates stunning spirit masks of animalia. About her work she states:

"We have increasingly alienated ourselves from the animal kingdom, dominating it rather than coexisting. Similarly, most of us are rarely immersed in wild vegetation and the forested environment, separated from its revitalizing properties. I create animal masks covered in botanical collage to suggest that we return to a mentality that sees ourselves as part of the natural world. These masks are intended to encourage a return to a more harmonious coexistence with the flora and fauna around us."

If you are looking to support local artists this year for your holiday gift giving, Astoria represents. We are excited to include a diverse array of fiber based work by local artists, Lâm Quãng and Kestrel Gates of HiiH Lights, Iris Sullivan Daire, Kathy Karbo and Celeste Olivares. Husband and wife team Lâm Quãng and Kestrel Gates of HiiH Lights, bring new sculptural lighting and jewelry. Their work is an elegant fusion of purposeful and sculptural, created from their own handmade paper and enhanced with natural pigments. Fiber artist, Iris Sullivan Daire of Astoria includes her plant based hand dyed botanical silk scarves, and wall pieces, she is known near and far as a master of natural dying techniques. This year she brings wraps inspired by ancient Celtic rock carvings as well as a collection of wall hung mythical birds created with her own dyes. Celeste Olivares brings a new collection of her intricate needle woven beaded necklaces and earrings. Each piece is an exotic one of a kind design utilizing semi-precious stones, vintage glass and crystal along with found objects. She carefully combines brilliant color and form with an end result of timeless and original jewelry pieces. Kathy Karbo returns with her hand cut paper installation work, this year she brings a collection of papercut vegetables she calls the Unity Garden, reflecting on the days of victory gardens and communities coming together in support of each during challenging times. Hook, Pulp and Weave is an eclectic, tactile and exciting blend of fiber forms that all will enjoy.