December 2019 Exhibit
Hook, Pulp and Weave
An Exploration of Fiber as Medium

Celebrate the holidays with Imogen as we host a rich and diverse invitational exhibition exploring fiber. Functional and non-functional work will be included in this unique exhibition of textile based arts. Color, texture and composition form the backbone of this diverse collection including a new selection of artist-made paper lights and jewelry by Lâm Quãng and Kestrel Gates of HiiH Lights, wall hung mixed fiber art pieces by Susan Circone, hand dyed silk scarves and wraps from Iris Sullivan Daire, and needle felted wool characters by Patti Breidenbach are just a few of the exquisite and whimsical examples of fiber in art to be presented for the exhibition. The exhibition will open for Astoria's Second Saturday Artwalk, December 14th with a reception for the artists, 5 – 8 pm. All are invited to attend and enjoy good company and cheer. Food and drink will be provided by the Astoria Coffeehouse and Bistro.

Fiber based art has a long running history, with weaving techniques dating back to Neolithic times some 12,000 years ago. It is respected as one of the oldest surviving craft forms in the world that evolved from multiple cultures, including the Incans who utilized textiles as currency, which held a more prominent role then gold for trade. Native Americans, for centuries have created elaborate basketry for all uses, including vessels that were water tight, made from regionally known plant materials. Middle Eastern nomadic tribes, have been respected for intricate hand knotted rugs made of wool and silk, dating back over 4000 years, and the rich illustrative tapestries of the 14th and 15th centuries of European cultures, all helped to forge what we appreciate as textile based art today. The term "fiber arts" came to be applied much later; post World War II with the insurgence of the craft movement. With this came the recognition of craft as fine art and the diminished idea of utilitarian needs.

Hook, Pulp and Weave is a collection of just a few examples of what textile or fiber arts has evolved into. With the lessening of the importance of function, and the consideration of pure artistic concept being delivered through the fiber medium, artists have found a new voice to explore ancient arts, utilizing texture, color and form. While much of the work included to this exhibition is functional, many pieces are based strictly on principle of art form, utilizing fiber to create compelling and complex pieces.

Susan Circone of Portland, brings intricate wall hung abstract compositions focusing on brilliant use of texture, pattern and nuance of color. Coming from a former career in geological sciences, her compositions are inspired by nature. About her work she states: "Paying homage to the curvilinear nature of organic forms, especially at the microscopic scale, is the main focus of my work. Repetition
of these cell shapes and strings creates the visual vocabulary and textures that interest me. Depth is created through the layering of dyes or discharge of color, silk organza, and manipulated cheesecloth bound to a foundation layer with embroidery floss and hand stitching.A new direction of work explores grids and lines through the manipulation of cheesecloth or whole cloth dye monoprints. In both cases, the work relates to my background in science and my observation of the world around me.
Julie Kern Smith also of Portland, returns with her rich and sophisticated wraps made of nuno felted wool and repurposed silk, from vintage scarves and kimonos. Her choice of materials are exquisitely brought together through fusion of fiber, creating rich and tactile wearable art forms.

If you are looking to support local artists this year for your holiday gift giving, Astoria represents. We are excited to include a diverse array of fiber based work by local artists, Lâm Quãng and Kestrel Gates of HiiH Lights, Iris Sullivan Daire, Patti Breidenbach, Kathy Karbo and Celeste Olivares. Husband and wife team Lâm Quãng and Kestrel Gates of HiiH Lights, bring new sculptural lighting and jewelry. Their work is an elegant fusion of purposeful and sculptural, created from their own handmade paper and enhanced with natural pigments. Fiber artist, Iris Sullivan Daire of Astoria includes her plant based hand dyed botanical silk scarves, and wall pieces, she is known near and far as a master of natural dying techniques. Patti Breidenbach brings the story with her whimsical collection of Alice in Wonderland characters created from needle felted wool. Both wall hung work and three dimensional figures are sure to delight. Celeste Olivares, also known as one of the "tango twins" as she teaches tango with her twin sister at the Astoria Arts and Movement Center, offers her exquisitely crafted jewelry. Olivares' needle woven beaded necklaces and earrings are exotic one of a kind brilliant designs. She utilizes semi-precious stones, vintage glass and crystal along with found objects. She carefully combines brilliant color and form with an end result of timeless and original jewelry pieces. Kathy Karbo returns with her hand cut paper installation work, this year focusing on the mythology and historical importance of the pomegranate. Hook, Pulp and Weave is an eclectic, tactile and exciting blend of fiber forms that all will enjoy.

---
November 2019 Exhibit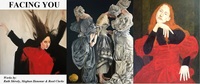 Facing You
An Exploration of Portraiture

Imogen is pleased to be presenting the fifth annual invitational exhibition exploring humanity through portraiture. This year's exhibition will include the sublime paintings of Reed Clarke, Meghann Hanour and Ruth Shively, all exploring the essence of humanity. This evocative collection moves beyond a surface glance of an individual, inviting the viewer a step closer and to consider the underlying. Perhaps even to see ourselves through the eyes of others, and what it means to be a part of mankind. Each portrait tells a story, we invite you to participate. The exhibition will open for Astoria's Second Saturday Artwalk, November 9th with a reception for the artists, 5 – 8 pm. All are invited to attend and enjoy good company, food and drink, provided by the Astoria Coffeehouse and Bistro. The exhibition will be on view November 9th thru December 10th.
Many artists at some point in their career have placed focus on the human form as subject matter, for some it's a practice of study, for others it's a means to participate with humanity on a more intimate level. Artists Reed Clarke, Meghann Hanour and Ruth Shively fall into that category. Portraiture becomes a vehicle utilized to explore deeper reflection of who we are, what we convey without speaking, simply by stance, expression or direction of gaze. These artists, all incredibly skilled with chosen medium, bring suggestion of story and history through portrayal of individuals.

Reed Clarke of Portland, Oregon has dedicated much of his career as a fine artist painting others. Known for his skill as a painter and printmaker, he has had his work juried into Clatsop Community College's prestigious Au Naturel: Nudes in the 21st Century exhibition several years running, receiving a first prize award as well as a purchase award from CCC. He has exhibited his work throughout Portland including a show at the White Gallery of Portland State University. For Imogen's fifth exhibition Facing You, he brings yet another strong collection of work, inviting the viewer to perhaps create their own story. His skill is apparent in the nuance of palette to create mood and emotion through an intimate look and consideration into another's experience, perhaps with a goal of fostering greater understanding and acceptance of who we are. About this series he states:
"Faces and figures inhabit all my paintings and when I try to stray from this subject something I can't resist always calls me back. In my work I hope to elicit a statement about being human that is familiar, and also seems impossible to say as clearly or completely in other mediums. Many of my paintings exhibited in this show are specific people: a writer, a weaver, a poet, a child soldier, etc. and I hope to have imparted some degree of a palpable and potent humanity in these paintings. The idea of restricting myself to a human subject and the discipline that presenting such a subject imposes on the composition is something I value. When possible I seek to emphasize the geometric shapes formed by different part of the composition and bring out the abstract surface rhythms of the composition. Ultimately however, I'm striving for a balance between recording a human subject that is compelling and creating a paint surface on the canvas that engages and rewards the viewer."

Imogen is pleased to welcome back the dramatic work of Astoria artist Meghann Hanour. Hanour who is primarily a self-taught artist brings a large scale acrylic painting on canvas as well as several drawings, representing preliminary work for her larger scale paintings. Her work for 20 plus years has been informed by humanity, primarily depictions of women. Hanour's command of the figure is without question impressive, both in scale and complexity of posture. She exhibits grace and confidence within every gestural mark, creating powerful and narrative story of strength, endurance and a passion for freedom. Her work is informed in much part by the human experience, particularly through the struggles of women, battling to care, nurture and protect offspring while still fighting for the dignity of freedom of self.

Hanour spends countless hours developing her composition before bringing paint to canvas, creating her own period wardrobe for her models. About her process she elaborates: "I start a painting by first sewing garments for my models, then posing and photographing them to help build lines and images before a brushstroke occurs. I work on big canvases, capturing movement, gesture, joy and pain in my work. Compelled to create beauty and narrative, the ace I feel never relents."

We also welcome back Ruth Shively a Portland based artist. Like Hanour she is drawn to imagery of women, portraying quiet resilience and an innate sense of strength and beauty. About her work she states: "I work largely with the figure, concentrating on women. In awe of the strength women behold, I feel the need to express their character through my work. I can't explain how I choose my subjects, I go with my instinct and immediate feelings and drawn to stark, positive/negative space. I like humor, mysteriousness and intimate mood, wanting the viewer to make their own interpretation. I studied drawing and illustration in school but I'm a self-taught painter and prefer this medium as I love the spontaneity of the paint and using color to create space." Shively, who grew up in the Midwest has lived in Paris, New York City, Minneapolis and now Portland. She has exhibited her work in numerous group and solo exhibitions that have taken her from Los Angeles to New York and many venues in between.

---
October 2019 Exhibit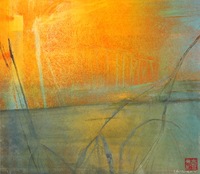 Gin Laughery
Elements and Patterns

Printmaker Gin Laughery, a former Astoria resident returns for her third solo show at Imogen. Laughery, who traded the coastal terrain of the upper left edge of Oregon for the high plateau desert region of Central Oregon, brings a rich collection of monotype prints. Within this series she depicts landscape imagery through abstraction and subtle use of color and texture. Please join us in welcoming Gin back to town and take in her latest series of intuitive prints. Elements and Patterns opens during Astoria's Second Saturday Artwalk, October 12th with a reception from 5 – 8 pm. All are invited to come say hello and enjoy food and drink generously provided by the Astoria Coffeehouse and Bistro. The exhibition will be on view through November 5.

Laughery had resided in Astoria for decades before relocating to Redmond, Oregon. Originally from Eastern Washington, she has always been inspired by the landscape of the high plateau desert. The region has consistently crept into her rich imagery where sharp lines intersect with deep and unexpected nuance of color. It is this landscape that has always been pivotal to her. A place of inspiration that has and remains informative to her work. Laughery spends countless hours within the vast landscape she now calls home, enjoying hiking, skiing, kayaking amongst other outdoor activities. She readily interprets the same terrain through the printmaking process, sharing a focused collection inspired by her surroundings of the high desert.

Many artists spend years exploring medium and subject matter before finding their primary vehicle of communication. For Gin Laughery, the printmaking process, drew her in immediately, quickly becoming a chosen form to convey her personal ideas and vision of the world around her. Her love of printmaking was fostered by the late Royal Nebeker, an artist, educator and former Oregon Arts Commissioner. Laughery's choice of medium is simple to understand when considering the land she lives within. Printmaking, specifically monotype became a clear choice early on for her. The process itself can be compared to the geological occurrences that created the lands she now lives within. With compression being a key component to the printmaking process, other tools utilized also exemplify early formation of land. Brayers and brushes are used to move and "break" ink, before going to a steel press, to literally force the composition. This action can be likened to a slow moving glacier, changing the surface of terrain by slowly carving and creating texture while revealing nuance of color shift through exposed mineral deposits.

About this current series she states:
My work embraces the celebration of land and natural phenomena. Early life in Eastern Washington and current life in Oregon's High Desert, both with their spare, elegant landscapes and panoramic views directly inform my work as a printmaker. My palette and use of texture are inspired by daily walks through this amazing space. Rugged outcroppings, rimrock and seemingly empty lands hold subtle beauty on both intimate and expansive levels.

The repetition of these land forms causes me to imagine a musical fugue of sorts where rather than a short melody played by one instrument and then repeated by another as part of a larger orchestral piece, the High Desert provides endless repetition of elements. The resulting patterns are remarkable and often unimaginable.

The renditions of place presented in this exhibit are created by exploring stratification through the use of an etching press, multiple layers of inks and additional methods of mark making. The results are suggestions of the land and mood to which I am so connected.

Combining observation and memory are critical to her finished compositions. Beautiful and thoughtful rendition of space explore stratification of land with layers of sheer tonality. She skillfully weaves color to visually describe the deceivingly complex terrain of the high desert. Laughery invites the viewer to consider geological nuance, in all its subtle yet expansive beauty as well as atmosphere, always playing its role in the characterization of the unique and powerful region of Central Oregon.

Laughery has exhibited her work throughout the Northwest in both solo and group exhibitions. She has had her work juried into the prestigious Au Naturel: Nudes In the 21st Century hosted by Clatsop Community College, The Printmaker's Hand II, held at the Northwind Arts Center in Port Townsend, WA as well as the Around Oregon Annual at The Arts Center of Corvallis, OR. Laughery is also a founding member of the North Coast Printmakers' Collective.

---
September Exhibit
Darren Orange
Rise In A Wake

We are proud to present the work of Northwest artist Darren Orange with his second solo show at Imogen. Darren, who is known throughout the region for his bold and evocative style brings his latest collection, Rise In A Wake. His paintings encapsulate the raw power of the Pacific Northwest through abstract interpretations of landscape. Rise In A Wake opens during Astoria's Second Saturday Artwalk, September 14th with a reception from 5 – 8 pm. All are invited to attend and meet Darren who will be available to answer questions about his paintings and process. Food and drink will be available, generously provided by the Astoria Coffeehouse and Bistro. The exhibition will be available for viewing through October 8th.

Local favorite, Darren Orange brings a strong collection of abstract paintings inspired by the landscape he immerses himself in; the Lower Columbia region. Now fully settled into his new studio located on the south banks of the Columbia River, Darren gathers the calm of early morning sunrise to instill in his dramatic abstracted scenes. With the still gritty element that has been the pinnacle of his work for decades he depicts quieter moments, reflecting the raw power with dedicated stillness and wonder of the wilds that have carved this region. A continuation of intuitive mark making brings imagery that reflects the raw power and force of the Columbia River itself, becoming part dance and part meditative practice.

Darren Orange was raised in the agricultural region of Central Washington where vistas are vast and life is connected intimately to land, much like his adopted home of the lower Columbia region. He seeks places of authenticity where man is directly linked to terrain through farming, timber or fishing. These places have stories to tell, Darren strives to participate in that narrative through his painting. His direct and sometimes raw work conveys through abstracted landscape his own personal connection to place, but more importantly to those who came before, those who made their living through and from the land by fishing the river or felling trees. His work pays homage to independence and tenacity and the general spirit of the Northwest.

Within this new series, Darren brings paintings of all scale. His palette shifts from past work to a softer and gentler tone balancing sharp contrast to washes of color. Golden hues of autumnal light emerge from striation of elegant and watery blues that seem to dance across canvas. About his new body of work he states: "I continue to explore free association of intuitive mark making, or automatism. I stretch further from the literal reference and deeper into abstraction. Built suggestive imagery from layers of paint reveal the history of the painting process in smear, smudge, and line. In my attempt to make the work of painting fun by the act of play, the process of pigment manipulation, aesthetic chess, and exploration of mark making, carving-out composition has lead me to a quieter practice of activity in meditative focus."

Darren's work has been widely exhibited, reaching all four corners of the United States, including New York, Atlanta, Santa Fe, Portland as well as the Coos Art Museum in Coos Bay, Oregon. He has been presented awards from the Oregon Arts Commission, the Ford Family Foundation, and the Ucross Foundation Residency Fellowship. His work has been selected for exhibitions by Dominic Iocono of the Syracuse University Art Galleries, Michael Klein of the Microsoft Collection, Nat Trottman of the Guggenheim, Bonnie Laing Malcolmson of the Portland Art Museum, Margaret Bullock of the Tacoma Art Museum, and many others. Academic institutions such as Portland State University, Mt. Hood Community College, Peninsula College, Mt Hood Community College, and Lower Columbia College, Oregon Coast Council for the arts have awarded him with solo exhibitions. Darren has also been selected by the Oregon Arts Commission for the Art In The Governor's Office program, a prestigious recognition as an Oregon artist. His work will be hung in the reception area of the Governor's office for the month of December. His work can be found in private, public and corporate collections around the world.

---
August 2019 Exhibit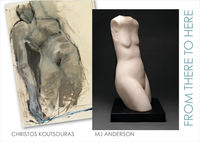 MJ Anderson and Christos Koutsouras
From There to Here

To commemorate our 7th anniversary we are proud to be presenting a dual exhibition for internationally known artists MJ Anderson and Christos Koutsouras, who bring From There to Here. The exhibition opens for Astoria's Second Saturday Artwalk August 10, with an artist's reception 5 – 8 pm. Please join us to celebrate this powerful exhibition focusing on the human form in both two and three dimensional portrayals. MJ Anderson will be present and available to answer questions about the work, all are welcome to stop by and meet her and learn firsthand about her unique process where antiquity meets contemporary. The exhibition will remain on display through September 10.

MJ Anderson and Christos Koutsouras, both legendary for their work share more than one common thread to their creative process. Both artists have worked tirelessly for decades honing their artistic skills, while placing themselves in a personal epicenter for continuous cultivation of inspiration. The two carefully balance careers that connect the Mediterranean to the Pacific Ocean. For Anderson that means splitting her time between her two studios, one located in the small coastal town of Nehalem, Oregon and the other in Carrara, Italy where she is close to the marble quarries she hand selects her own stone to sculpt. Christos Koutsouras, a painter also manages a career that takes him from his birthplace of Samos, Greece where he still maintains a studio, to his stateside home base of Astoria. For Koutsouras both places offer inspiration through landscape and light. The two also share a mastery of chosen medium, born of their love of the classics and ultimately utilizing that element as a springboard, to give voice to their mutual love of the human form, in expression of human nature itself.

Regarded as one of the Northwest's most important sculptors, MJ Anderson brings her iconic marble torsos. Taking a nod from the masters and personalizing it, she focuses primarily on the female form in her work. She creates forms that might remind some of the sculpted marble work falling somewhere between the Cycladic and Hellenistic periods, but exquisitely refining form to define to her own style. Hand selecting her marble, usually directly from the quarry, she has moderate control of what will occur once the chisel hits the surface. For MJ the magic happens within the stone itself, revealing what some might refer to as flaws, she leaves the revealed rawness to become an integral part of the finished form. Having experienced profound loss in her life, MJ utilizes her skills to portray woman as survivors, to serve as example of woman who have overcome adversity. The imperfections of surface become a living record of strife and struggle, becoming part of the overall beauty of form.

About her work she states:
I carve in response to the unique qualities of each stone I touch. It is an intimate and reverent dialogue of lasting consequence. And being a woman sculptor, I attempt to convey the essence of what it feels like to be human, to be woman. Whether working abstractly or in the figurative vein, I approach the form as if it has always existed. The process of direct carving keeps me active in the present tense as I respond to the form with each hammer blow. I am increasingly delighted by the endless possibilities that the human form and spirit provide as vehicle for expression. Often presenting a full-on facing forward figure without the contortions of vanity, I want to express the essence of our human-ness rather than the image of a person. Although stone carving is the most ancient and durable of art forms, working within the moments of my own time and evolution imparts a contemporary insight into that which is both ancient and immediate in all of us.

Anderson has been exhibiting her work extensively throughout the Northwest and abroad since the mid 1990's. Her work is included to the permanent collections of the Portland Art Museum, Hallie Ford Museum, Salem, OR, Caesar's Palace, Las Vegas and the Maroochydore Bushland Botanic Gardens & Noosa Botanic Gardens, QLD. Australia. She has been the recipient of a Pollack- Krasner Foundation Grant, a two month Fellowship Award in Civita di Bagnoregio, Italy through NIAUSI through the Northwest Institute of Architecture & Urban Studies in Italy and most recently a career opportunity grant through the Oregon Arts Commission and The Ford Family Foundation.

Koutsouras who was born and raised on the island of Samos Greece, sharing the birthplace of famed philosopher/mathematician Pythagoras; came to the lower Columbia Region of the Pacific Northwest in a rather surreptitious manner. Preparing for his second solo exhibition at the Indianapolis Museum of Contemporary Art, Koutsouras found his way to the region. Knowing he wanted to create a body of work about the ephemeral yet powerful Pacific Ocean to share with his audience in the Midwest, he took an exploratory trip down the Oregon Coast. It was along the banks of the Lower Columbia River he found his muse, her name is Astoria, Oregon. His intent was simple, to stay six months for an intensive period of painting, ultimately creating a body of work inspired by the wildness and integrity of the region. This place of confluence took hold like an anchor dropped from a freighter; Astoria beckoned and he listened. Inspired by the landscape, and tenacity of those who settled here, he has worked from the same studio on the banks of the Columbia River for nearly ten years, creating four distinct bodies of work for exhibitions shown here in the United States as well as Europe.

Still maintaining his studio in Greece, this current series was created there. Working towards this exhibition shared with MJ Anderson, Koutsouras took inspiration from her marble torsos, shifting gears and going back to his love of the human form. Smaller works on paper and canvas, mostly in oil show his deft and muted palette handled with calculated nuance. Almost ghost like forms languidly recline across the paper, with compositions that place the figure within the landscape of the region even while he is abroad and working from his studio in Greece, as if haunted by the spirit of Astoria itself.

About his process and choice of medium he states:
Painting has always been the medium I could channel feelings, moods, thoughts, and observations, and communicate those, using the aesthetics and the freedom it provides me, to get into the space between, the place that creates those images.
Painting allows me to be romantic, and at times even rewards me with images of beauty and depth.
Painting allows me to travel in many ways, and gives me the task, to communicate my experiences with others, and by saying that, I come to the last but foremost ...painting has taught me how to share.
Enjoy what you see, be critical about it, and hopefully it does catch your curiosity to think and express those thoughts.

Koutsouras has enjoyed a career that has offered many unique opportunities including commissions for large scale public art projects. One such project was located at the East Side Gallery in Berlin, Germany where a monument of freedom was established when the Berlin Wall came down. He, along with over 100 other internationally respected artists were each designated with a 30' segment of the wall to create a mural celebrating a message of peace. In addition to being represented by Imogen Gallery in Astoria, Koutsouras has exhibited work in various solo exhibitions around the world including the Martin Luther Kirche in Cologne, Germany; Abraham Lubelsky Gallery in New York, New York; Center for the Artist, Melian Merkouri in Athens, Greece; Christel DeHaan Art Center and the Indianapolis Museum of Contemporary Art in Indianapolis, Indiana. Koutsouras firmly has one foot in two continents, managing a career that spans from Astoria, Oregon, to Samos, Greece with several stops in between.

---
July 2019 Exhibit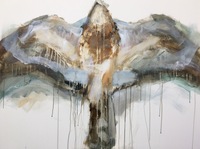 The Long View, Up Close

The Paintings of Bethany Rowland

Bethany Rowland returns to Imogen Gallery with her fourth solo exhibition, inspired by her continued love of landscape and the raptors that inhabit its skies. Her latest series The Long View, Up Close opens during the Astoria's Second Saturday Artwalk with an opening reception Saturday, July 13 from 5 – 8 pm. Join us for the evening and meet Bethany Rowland who will be available to answer questions about the collection and her painting techniques.The exhibition will be on view through August 6th.

For any artist, surroundings become part of the creative process, taking inspiration from the play of light, the shift of color due to atmospheric qualities and the connected dependence of flora and fauna that results within varying ecosystems. Having recently completed her second artist residency at PLAYA, located in eastern Oregon at Summer Lake, Bethany Rowland found herself immersed in a vast terrain drastically differing from the Douglas fir forests of her home, west of the Cascades. The long and sweeping views brought her focus to the immense skies and its inhabitants. Her careful observation of Red Tailed Hawks, soaring high to scour the land far below for prey, noting the stillness of a Great Horned Owl perched but alert, and the impossible aerodynamic show put on by Kestrels hunting. Working in acrylic on clayboard, her paintings offer a perfect blend of realism and abstraction, with subtle nuance of brush stroke she crafts composition lending to the mysticism of landscape and animals she honors.

Her experience of placing herself in this ancient (yet new to her) landscape made a profound impact on how she views her surroundings. She fell into a daily rhythm of looking skyward for careful observation in slight shifts of light, revealing nuance of birds in flight as they meandered through their daily tasks of existence. The long views of distance pulled sharply into focus through juxtaposition of billowing cloud formations within an enormous sky that scraped snowcapped mountains in the far distance, became intrinsic to her painting. About this series she states:

The title of this show comes from what shifted in me when exposed to this ancient wild expanse of land, water and sky, and observing the ways of seeing of raptors. I was born into the sheltering fragrance of Douglas fir trees in the Pacific Northwest. The PLAYA landscape has loosened something in me that needed untethering, and has drawn me closer to exploring new questions of hope, empathy, and what motivates us to act, in response to the growing threats to our interconnected world. There are many ways of being in the world. What does it mean to take the 'long view' in a world that calls for our love and attention? If proximity and attention help us to care, what is there to learn about taking the long view without disconnecting?

Can we expand our imaginations to access the wisdom of natural intermediaries?

I found myself soothed, gazing across the evaporating lake, where ghostly forms of alkali dust gathered and ascended to the heavens. Unto dust we shall return…

Rowland who has been painting for well over 20 years handles her medium, style and subject matter with unabashed confidence, carefully cultivating imagery that is a beautiful and evocative marriage of representation and abstraction. Combining quiet corners of complex layers of sheer color with definitive mark and gesture, she conveys emotion; a hint of melancholy, comfort and acceptance within each composition. She readily sights such artists as Phil Sylvester of The Drawing Studio in Portland, OR as well as others including Andrea Schwartz-Feit, William Park and the late Royal Nebeker for giving her the courage to trust her own intuition in her practice. She understands form and allows herself freedom to explore the nuance of posture through the discipline of painting the human figure. Her figurative work has been juried into Clatsop Community College's annual Au Naturel: The Nude In The 21st Century, for multiple exhibitions throughout its history. Her work is regularly included to the annual Sitka Art Invitational as well as the juried annual Cascade Aids Project art auction.
---
June 2019 Exhibit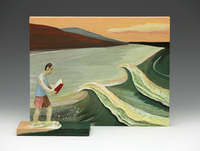 Safe Harbor
Stan Peterson

Imogen Gallery is pleased to be hosting a solo exhibition of the delightful and thought provoking sculpture of the well-known Portland artist Stan Peterson who brings his latest series of work, Safe Harbor. Join us for Second Saturday Artwalk, June 8 with a reception for Peterson, 5 – 8 pm who will be in attendance and ready to share his tales of whimsy and inspiration. Safe Harbor will remain on view through July 9th.
Stan Peterson delights in storytelling and with that in mind has put together a new series of carved and painted wood pieces, both wall hung and freestanding that reference his love of travel and the tales that ensue. Inspired by Astoria, its maritime history and dramatic landscape, he brings a collection focusing on boat and barge vessels carrying his friends the "restless travelers of the random" to safe harbor. Safe Harbor and its cast of characters are sure to delight with a healthy dose of whimsy grounded by just enough introspective sensibility.

Peterson, a self-taught woodcarver has been exhibiting his narrative and figurative sculpture for nearly four decades, utilizing animal form as a vehicle to explore human interaction and connection. As a retired postal carrier, walking is something he has always enjoyed, whether it be the city streets or remote beaches; long sidewalks give way to stretches of beach pulled and reshaped by tidal flow. These elements give him the time and space for introspection of daily experience and random encounters that quite often become center stage to his finished work. About this exhibition he states;

My work travels. Shaped with hand tools to a scale that fits in a pocket. Works in process often go out for a drive, or a walk on the beach. I take iPhone pics of them and post on social media. It's a type of storytelling. The changing tides of migration are having a major effect on all of our sensibilities.

Astoria, being on the water, offers wide views and distant horizons. Cargo ships and fishing boats anchor to wait out the tide. My carved rabbits, penguins, giraffes, etc have found a safe harbor at the Gallery as Spring turns into Summer. Sometimes they assemble on stage sets for the wall. Vignettes telling of their adventures in a painterly manner. They are restless travelers of the Random.

Peterson has enjoyed a remarkable career as an artist, exhibiting his work from the west coast to as far away as New York and Paris with collectors all points in between. He has been a featured artist on the much loved OPB Art Beat program and written about in PDX Magazine. He has enjoyed several artist's residencies over the years including award of an individual artist's grant from the William T. Colville Foundation to travel to Bali for "Arts in Bali" where he worked with a traditional mask carver in Bali.

---
April and May 2019 Exhibit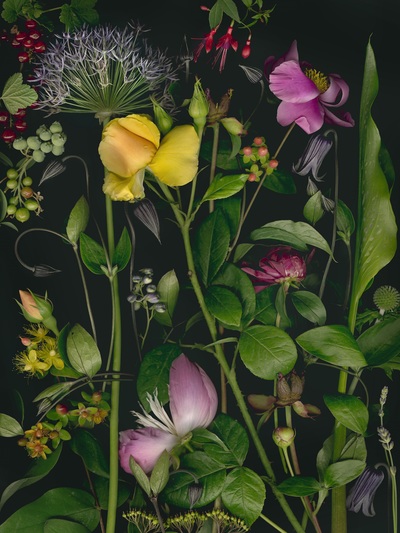 Garden Studies
Deb Stoner

Imogen Gallery is honored to be hosting a solo exhibition for Portland artist Deb Stoner. Garden Studies opens April 13th for Astoria's Second Saturday Artwalk with a reception for Stoner, from 5 – 8 pm. Stoner, an accomplished photographer brings a new series of archival pigment prints, focusing on her love of gardening and the Dutch masters of still life painting. All are invited to enjoy good company and conversation with the artist during the reception. The exhibition will be on view through June 4th.

With the arrival of spring and the gardening season we are thrilled to host the lush and spectacular photographs of Deb Stoner. Stoner from Portland, OR, combines her skills as photographer, researcher, and gardener along with a meticulous sense of detail to create dramatic still life imagery. Reminiscent of the still life painting of the 16th and 17th centuries she weaves complex mazes of texture and color within each composition. With a strong background in craft as a jeweler, scale and precision are always at the forefront of her work today. Her fine art prints are the culmination of a passion for growing plants, collecting insects, and choreographing the still life image.

Garden Studies, Stoner's current series showcases her love of botanicals with large format prints that allow the viewer to immerse themselves in details not normally seen without careful scrutiny. With some images printed as large as 60" x 42", insects larger than life reveal themselves within her compositions, looking at home in their artist made world. Incredible detail in a vast array of plant varieties included to each print, Stoner's work is easily a horticulturist's dream come true. She carefully cultivates each detail of her compositions with the delicate nuance of curl on a petal, or the subtle shift of hue within a blossoming rose. The juxtaposition of the bright and shiny surface of an eggplant next to the matte, almost velvety skin of a purple string bean gives the allure of indescribable texture and dimension that leaps from the flat surface of rag paper that each image is printed to.

Stoner is an artist who is constantly challenging herself to create and reveal the unexpected. Her photographic process is not the atypical point and shoot format with a hand held camera and lens doing the work, instead she creates each high resolution image on her scanner, literally building her compositions on the scanner bed to capture as much detail as possible. About this series she states:

"I make high resolution images of things I gather in nature, from intensely dense urban floral gardens to experimental vegetable breeding gardens. This year was the first where I made photographs from the mobile studio that my partner made from a 1952 vintage trailer, marking freedom from the tether of my usual home studio. Some of these photographs have come from that experience. All are a continuation of a large ongoing body of work called "A Year in the Willamette Valley", a reference to place and time. Obviously inspired by 16th and 17th century European floral painters, as well as the natural/fake large scale dioramas in natural history museums, I'm mostly interested in making beautiful compositions. The scanner, as my photographic tool of choice, reveals extraordinary details far beyond the ability of my unaided eyes. My obsession is paying attention to phenomenal and ephemeral events in gardens throughout the year, and making images with them in real time."

Deb Stoner holds an MFA in Applied Design from SDSU, a BS in Geology from UC Davis, and a decades long teaching career at Oregon College of Art and Craft. Recently she presented lectures on photography to the Yuma Symposium, the Portland Art Museum, and the SPE NW Regional Conference. She has also had solo shows in 2017, 2016 and 2015, as well as numerous group shows, and currently has two scheduled for 2019, the first at Imogen. Stoner has juried purchases in the permanent public art collections at University of Oregon, OHSU, PCC, and Portland International Airport; is the recipient of grants and a recent residency, and sells work to enthusiastic collectors around the world.

---
March 2019 Exhibit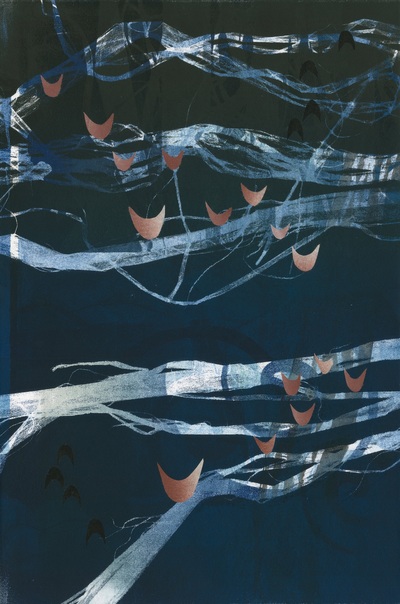 Voyages and Migrations
Miki'ala Souza

Imogen Gallery is honored to be hosting a solo exhibition for Astoria artist Miki'ala Souza. Voyages and Migrations opens March 9th for Astoria's Second Saturday Artwalk with a reception for Souza, 5 – 8 pm. Souza, an accomplished printmaker brings a new series of monotypes and chine colle prints that explore journey and migration of people from one culture to another. All are invited to enjoy good company and conversation with the artist during the reception. The exhibition will be on view through April 9th.

Souza, a native Hawaiian brings a complex series of montypes and chine colle prints for her first solo exhibition at Imogen Gallery. For this series she depicts waterways and currents that might be utilized to traverse from homeland to a new and unknown environment. Her imagery acts as representation of past to present and the overlapping of cultures that ensue by migration. Through the intrinsic layering process of printmaking she brings dramatic imagery of rich and saturated color. Incorporating bold swathes of sheer inks to act as current, finding themselves winding over the page in rhythmic patterns such as a traveler trusting themselves to currents that propel them around the globe. The very process of printmaking is a perfect metaphor for this transference of cultural identity that Souza depicts in each composition, weaving the layers of inks to create an imprint of one's history, building a sense of journey from past while fusing that with present and giving reference to what may come with new sense of identity.

Souza is both a practicing artist and educator, teaching art at the high school level and in the past printmaking at Clatsop Community College. She has always had a strong love of travel, exploring the world to deepen her own knowledge of sense of place. Her prints include bits and pieces of all the places that have touched her through experience and memory. Souza's exploration of other cultures includes six months study at Parsons School of Design in Paris, three months in the Solomon Islands studying art practices in a small village, as well as multiple trips to New Zealand including one visit granted by the Oregon Arts Commission for residency and exhibitions of indigenous artists. About her work she states, "The spaces created during the monotype process of layering ink, build elusive landscapes full of symbolism, depth and color. I build environments that combine influences from my immediate surroundings as well as imagery from my indigenous background."

---
February 2019 Exhibit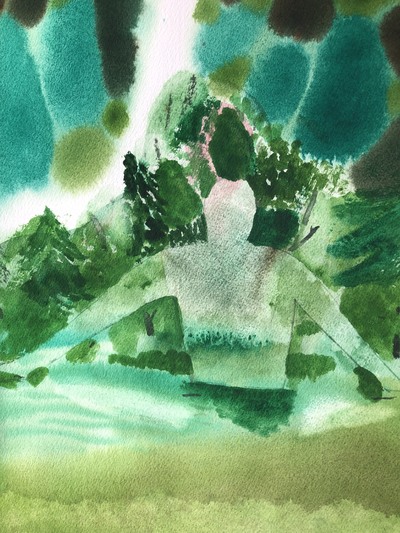 Tides

Paintings by George Wilson

With the annual FisherPoets Gathering just around the corner, Imogen Gallery is pleased to be hosting the third solo exhibition by professional artist/fisherman, George Wilson, who resides in Portland, Oregon. Tides opens February 9th during the Astoria Second Saturday Artwalk with a reception from 5 – 8 pm. Friday. February 22nd from 4 – 6 pm, all are invited for a welcoming reception, to kick off the full weekend of events scheduled for FisherPoets Gathering. The exhibition will remain on display through March 5th.

One wouldn't quickly draw a parallel of career choices between the fishing industry and the arts, whether visual or literary, yet it seems more prevalent than one might assume. Year after year the fishermen who might be poets, or vice versa, convene in Astoria to share their prose, their short stories, their livelihood with those of us who have perhaps never been to sea, let alone experienced first-hand the hard and dangerous work of being a commercial fisherman. Likewise, with visual artists who make their living from the sea. George Wilson is one of those unique individuals, who from childhood has enjoyed the beauty, sometimes solitude and unpredictability of the fishing industry while combining that with his other love, that of the visual language which he utilizes to narrate his observations as a fisherman.

For this series Wilson brings a collection of small and ethereal watercolor paintings that reflect his strong connection to the sea and its tributaries. Growing up in a generational fishing family in a small village off the coast of Scotland, waterways have always been a part of his existence, as well as a source of livelihood. That profound connection has culminated in an enchanting series of paintings that serve as visual poetry to places he's been, reflecting shoreline and its ever changing edges that define and connect land to sea through ebb and flow of tide.

He shares with the viewer his love of landscape with dreamlike renditions of places that resonate a deep and rooted sense of nostalgia. About the series he states, "My home village sits on a headland that juts into the sea. In the Moray Firth, my first ocean, the tides run hard and strong. I am fascinated by the surfaces of water- the patterns, lines and shapes the tides paint in their movement. Tides have brought me an understanding an understanding of timeless impermanence. I seek solace in the waters and in their truth: change is the constant. I am blessed by the waters at this time when the social, political and planetary tides stir our depths and ripple through our lives."

Wilson who has painted as long as he's fished, eventually found himself entering the academic world with studies at Gray's School of Art, one of the United Kingdom's most prestigious art schools located in Aberdeen, Scotland. After graduating with a focus on painting and drawing, he found his way back to the sea where his time was shared between fishing trips and the studio. His work is a beautiful balance of both worlds with one love always merging with the other.

---
January 2019 Exhibit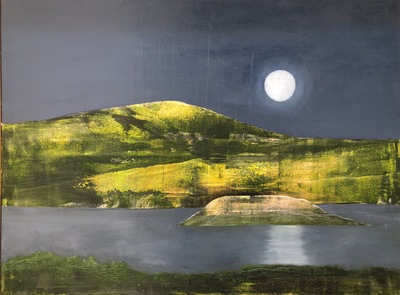 Ryan Dobrowski
Discover Solitude
Many artists can spend a lifetime trying to master one art form, Ryan Dobrowski happens to be one of those rare individuals who seems to cultivate a balance between two very different artistic expressions, music and painting. The Astoria based artist brings to Imogen a new collection of landscape paintings that inspire a sense of self-discovery and reflection. The exhibition, Discover Solitude opens Saturday, January 12, 5 – 8 pm with a reception for Dobrowski, who will be present and available to answer questions about his work. Light bites and drink will be provided by Astoria Coffeehouse and Bistro. Discover Solitude will be on view through February 5th.

Ryan Dobrowski is not one to sit idle; creative and physical energy seem to perpetually feed his talents. Known as drummer to the internationally known indie-pop band, Blind Pilot, Dobrowski still finds time to express himself through the visual language. Although he has cultivated a successful career as a musician, honing his skills as a drummer since childhood he has also consistently worked to express himself through painting, earning a BFA from the University of Oregon.

For this series, his third solo show at Imogen, Dobrowski, focuses entirely on landscape, not so much in reference of direct place but rather to conjure a sense of discovery that comes from quiet and solitude within the landscape. His painting process consists of layering of medium, building up surface and then working back into the painting, almost as if excavating to reveal a glimpse of geological time. Each painting contains its own history, more than is seen simply on the surface, offering subtle underlying elements that lend to emotive nuance, in the end revealing mystery and the gift of discovering solitude.

Dobrowski continues to show stark and rugged beauty of landscape sought out for its drama. With a primarily subdued palette and flattened plane, Dobrowski carefully plays with a fine balance of surrealism to hyper-realism, softening and whether intentional or not, romanticizing what appears as dramatic and inspirational landscape. He portrays through sometimes sharp contrast of color and defined raw edges powerful elements that bring suggestion of place without the mark of mankind, a place not known and waiting for discovery.

About this series Dobrowski states, "Discover Solitude is a series of paintings in search of a moment of discovery. They are landscapes of nowhere in particular. Places I can only get to through painting. They are built through many layers of paint applied and removed and applied again until that moment of discovery is found. Each piece holds more history than can be seen on the surface. Some have entirely different paintings underneath them, some are supported on wood panels removed from my house. All of this becomes part of the finished painting. One action directs another until I find something that feels new. Something that holds mystery. Something that feels like a return to myself."